Anthony Doerr's Pulitzer Prize-winning novel All The Light We Cannot See will come to life at Netflix. The story follows the parallel journeys of a blind French girl and a German teen tech expert during World War II.
The streamer unveiled a first look at the four-part limited series adaptation today. Check out the first teaser trailer for All The Light We Cannot See below.
(Note: Netflix also created an audio-descriptive version of the trailer.)
Here's the full official synopsis from Netflix:
Based on the Pulitzer Prize-winning novel, All The Light We Cannot See is a groundbreaking limited series that follows the story of Marie-Laure, a blind French girl and her father, Daniel LeBlanc, who flee German-occupied Paris with a legendary diamond to keep it from falling into the hands of the Nazis. Relentlessly pursued by a cruel Gestapo officer who seeks to possess the stone for his own selfish means, Marie-Laure and Daniel soon find refuge in St. Malo, where they take up residence with a reclusive uncle who transmits clandestine radio broadcasts as part of the resistance. 

Yet here in this once-idyllic seaside city, Marie-Laure's path also collides inexorably with the unlikeliest of kindred spirits: Werner, a brilliant teenager enlisted by Hitler's regime to track down illegal broadcasts, who instead shares a secret connection to Marie-Laure as well as her faith in humanity and the possibility of hope. 

Deftly interweaving the lives of Marie-Laure and Werner over the course of a decade, All The Light We Cannot See tells a story of the extraordinary power of human connection — a beacon of light that can lead us through even the darkest of times. 
All The Light We Cannot See comes from writer Steven Knight and director Shawn Levy. The series introduces newcomers Aria Mia Loberti and Nell Sutton as the older and younger Marie-Laure respectively. It also stars Mark Ruffalo as Daniel LeBlanc, Hugh Laurie as Uncle Etienne, Louis Hofmann as Werner, Lars Eidinger as Von Rumpel, and Marion Bailey as Madame Manec.
In addition to the teaser trailer, you can also see some first look images from the series below.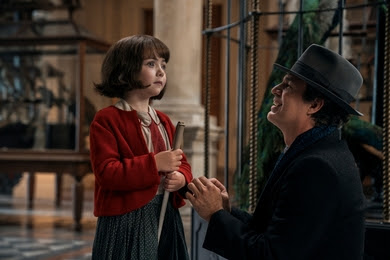 About the novel
All The Light We Cannot See quickly became a global phenomenon when it was published in 2014. It received wide critical acclaim as well as a Pulitzer Prize in 2015. It also earned the Andrew Carnegie Medal for Excellence in Fiction in 2015. All the Light We Cannot See spent more than 200 weeks on the New York Times best-seller list. Now, the novel has sold more than 5.7 million copies in North America and another 9.5 million copies worldwide.
When will All The Light We Cannot See premiere?
All The Light We Cannot See will include four hour-long episodes. The series will begin streaming exclusively on Netflix November 2.
Keep Reading: