Have you ever wondered what a Hello Kitty and Attack on Titan collaboration would look like? Has the idea of the ultimate symbol of kawaii culture hanging out with the likes of Eren and Mikasa ever crossed your mind? Well, as it turns out, you won't have to wonder for much longer. Not if BoxLunch has anything to say about it.
Hello Kitty and Survey Corps Friends?!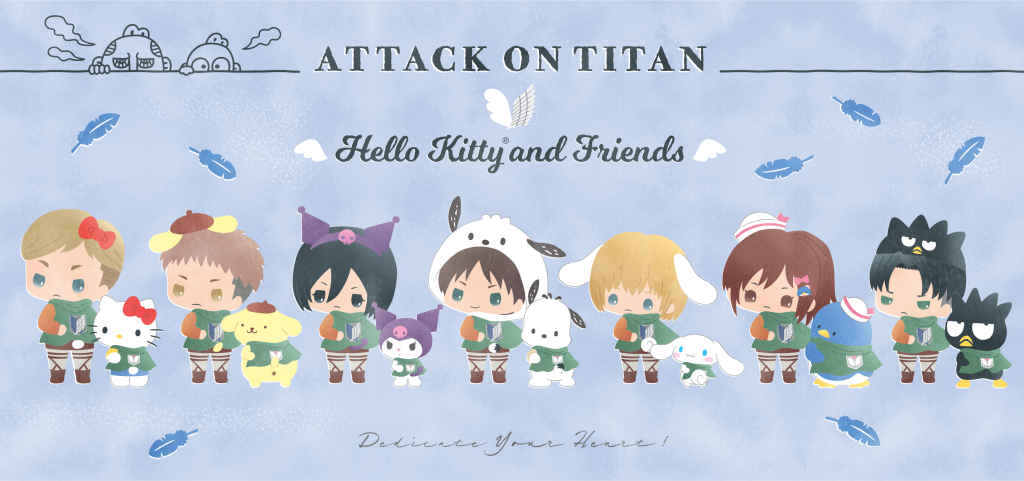 BoxLunch in collaboration with Sanrio and Crunchyroll are proud to announce their new line of merchandise featuring, of all things, a crossover collaboration between Hello Kitty and Friends and Attack on Titan. This lineup of new merch consists of not only clothing but also things like backpacks, bags, pins, throws, lanyards, etc.. All featuring tiny adorable chibi versions of the various members of the 104th Training Corps on them.
As you can see above, all of the chibi Attack on Titan characters also pair off with various Hello Kitty and Friends characters. Not just with the character themselves either. The Survey Corps members are also wearing Hello Kitty costumes on top of their usual uniforms. The contrast is…weirdly endearing. You can almost imagine them wishing that this soft, friendly life is the one they're living instead of their usual Titan-filled life of war and death.
We are thrilled to partner with our friends at Sanrio and Crunchyroll for another pop culture crossover. Bringing exciting products to market is what we do best at BoxLunch. The fun of Hello Kitty and her friends hanging out with their favorite Attack on Titan characters is perfect for our next innovative collection for our customers

Steve Vranes, CEO of BoxLunch
Best of all, all of these Hello Kitty and Friends x Attack on Titan are available right now! This collaboration went live as of March 15, 2023. You can purchase all pieces of merch in this lineup at BoxLunch stores both physical and online. So if you ever had a hankering for soft and cute crossed with war and death, this might be the crossover for you.