It looks like Senku is about to set sail for the North American continent pretty soon in the long-awaited Dr. Stone: New World. But first, they have to find the island where Senku's long-dead father left all of his treasures in a world-spanning treasure hunt. Don't believe me? Then why not watch the new trailer for this upcoming third season of the anime for yourself?
A Whole New World for Senku and Co. to Explore
Crunchyroll is proud to announce that the third season of the Dr. Stone anime, titled Dr. Stone: New World, will soon be starting its grand voyage on the anime streaming platform via the YouTube trailer above. How soon, you might ask? Well, specifically: April 6, 2023, at 7:30 AM (PDT). That's less than a month away as of this writing, so you won't have long to wait before you can watch the Perseus set sail. As you might expect though, Dr. Stone is a Crunchyroll exclusive, so you can only watch the anime there or on Funimation.
Note though that the debut date for Dr. Stone: New World above is specifically for the version with the original Japanese audio with English subtitles. If you want to watch the English dub version, then you'll have to wait for April 20, 2023, at 12:30 PM (PDT). Unfortunately, that's the only dub news we have for now. Crunchyroll promises that they will have dubs in German, French, Latin American Spanish, Brazilian Portuguese, Castilian Spanish, and Italian at a later date; but they don't specify when. Tune back into THS later to find that out when we do.
Dr. Stone: New World ~ Synopsis and Cast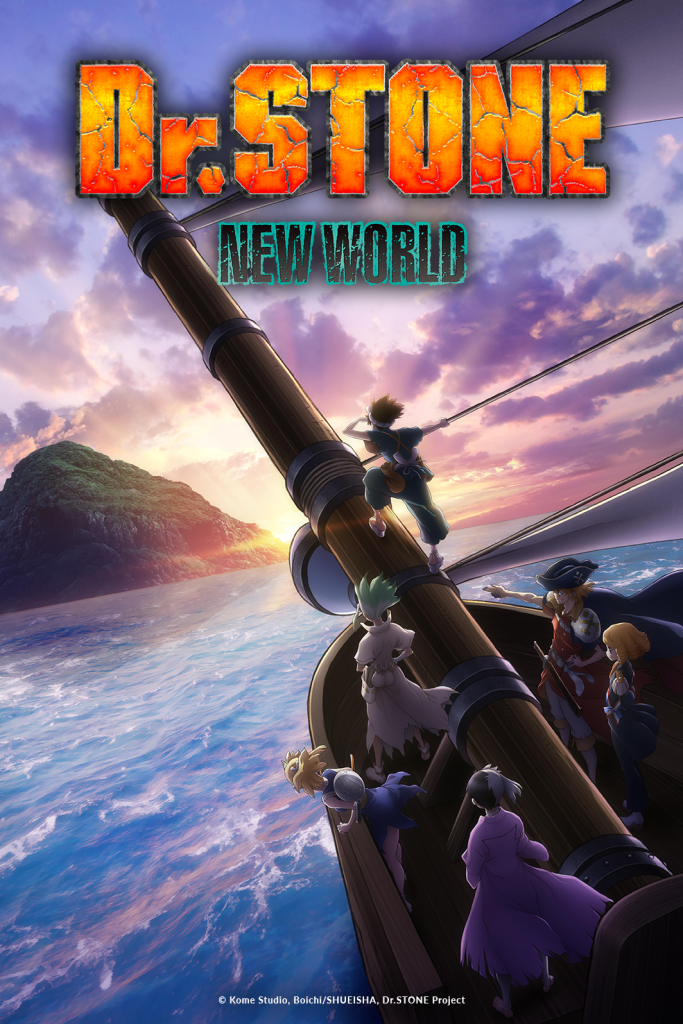 Want to have an idea of what Dr. Stone season 3 will be about? To help us out with that, Crunchyroll has an official synopsis for us today. You can check that out below:
With the Stone Wars over, the former members of Tsukasa's Empire of Might join forces with the Kingdom of Science to build a ship capable of sailing across open ocean to seek answers on the mystery of the global petrification. However, before they can begin their voyage Senku and his friends need to find some key resources and push some new scientific advancements to build the type of vessel they need.
As if that wasn't enough, Crunchyroll also has a full list of the main voice cast for Dr. Stone: New World. The list includes both the original Japanese voice cast and the English dub voice cast. You can check out both lists below:
Japanese Voice Cast
Yusuke Kobayashi as Senku Ishigami
Gen Sato as Chrome
Manami Numakura as Kohaku
Kengo Kawanishi as Asagiri Gen
Ryota Suzuki as Ryusui Nanami
Makoto Furukawa as Taiju Oki
Kana Ichinose as Yuzuriha Ogawa
Tomoaki Maeno as Kinro
Ayumu Murase as Ginro
Kensho Ono as Ukyo Saionji
Akira Ishida as Hyoga
Yasuhiro Mamiya as Magma
Karin Takahashi as Suika
Maaya Sakamoto as Francois
English Dub Voice Cast
Aaron Dismuke as Senku Ishigami
Matt Shipman as Chrome
Felecia Angelle as Kohaku
Brandon McInnis as Asagiri Gen
Clifford Chapin as Ryusui Nanami
Ricco Fajardo as Taiju Oki
Brittany Lauda as Yuzuriha Ogawa
Josh Grelle as Kinro
Justin Briner as Ginro
Mark Allen Jr. as Ukyo Saionji
Jerry Jewell as Hyoga
J. Michael Tatum as Magma
Sarah Wiedenheft as Suika