It's an excellent time to be a horror fan these days. If you want any merchandise for your favorite movie or series, it's out there. If you want premium releases of those movies, they're out there. Places like Fright Rags, Sideshow Collectibles, Scream Factory, Trick Or Treat Studios, Hot Topic, NECA, and other places have excellent horror merchandise that goes much further than just a logo on a shirt. So if you have a horror head in your life, or you're just looking for a present for yourself, here's the Ultimate Horror Fan Holiday Buying Guide for 2022.
The Big Ticket Items
Freddy Krueger 1/6 Scale Figure Sideshow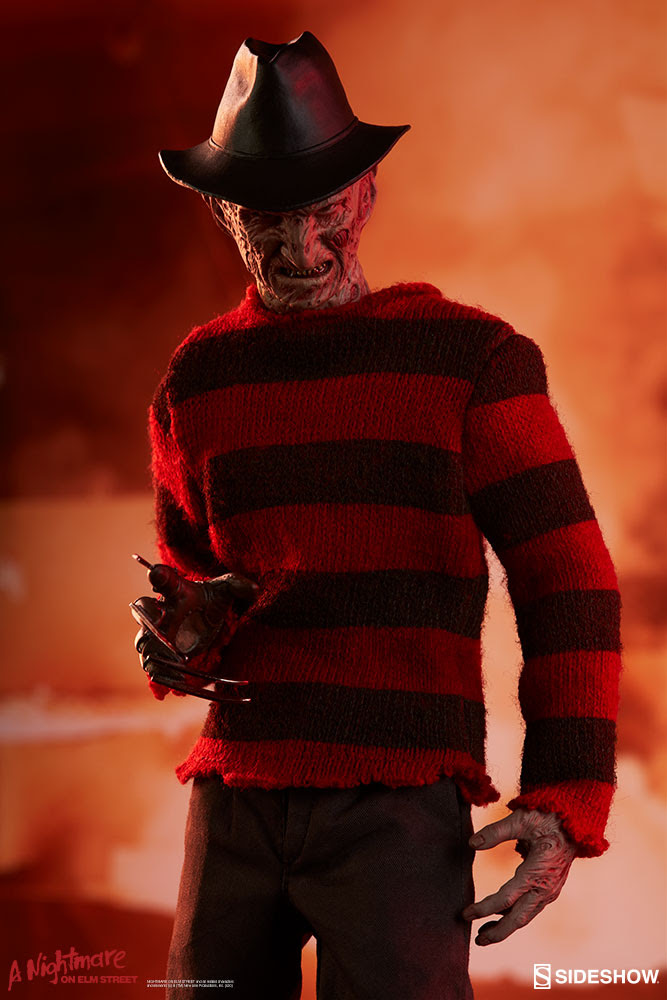 For the Nightmare on Elm Street fan in your life, this is a nightmare come true. This sculpt is based on Freddy's look in Nightmare on Elm Street 3: Dream Warriors. It comes with two different bladed glove hands to allow for a variety of poses. This is a must-have for any Nightmare on Elm Street fan.
$220
Evil Dead 2: Book of the Dead Necronomicon Prop Replica Trick Or Treat Studios
It's not a Holiday season until you give someone a book bound in human flesh and written in the blood of sacrifices. This highly detailed replica of the Necronomicon features a cover cast in high-quality latex with weathered interior pages. It has all the details down to the illustrations taken straight from the film.
Buy It from Trick or Treat Studios.
$119.99
Friday The 13th Collection (Blu-Ray) Scream Factory
Time for the best Blu-ray box set ever created. Scream Factory had their work cut out for them with this set, and they delivered. It's got every movie in the Friday the 13th series, which is no small feat considering the legal film rights issues involving the series. This set has hours of extra features, and one of the best packaging designs ever.
$159.98
The Halloween 4K Collection: 1995-2002 Scream Factory
Speaking of incredible box sets, The Halloween 4K Collection: 1995-2002 is one of the best new sets out there. Scream Factory put out the first five movies in the series on 4K in 2021, and continued that trend here with an excellent set featuring Halloween: The Curse of Michael Myers, Halloween H20: 20 Years Later, and Halloween: Resurrection.
$129.99
The Smaller Stuff That's Light Up That Horror Fan's Eyes
Creature From The Black Lagoon Tiki Mug Mondo
Coming up from the depths, this horrifying Creature From The Black Lagoon Tiki Mug is perfect for any kind of beverage. The handmade mug comes from Mondo and is officially licensed by Universal Monsters. On the front is the monster and on the back is a scream scene from the film. This holds 16oz of whatever liquid of your choice.
$50
The Texas Chainsaw Massacre Lounge Pants Fright Rags
If you're going to lounge around for the holidays in comfort, you need something frightening to wear. These lounge pants from Fright Rags are the perfect blend of comfort and terror with a print featuring Leatherface and The Texas Chainsaw Massacre.
$35
Friday The 13th Mask & Splatter Mini Backpack Her Universe
If you're heading out into the world, you might need a scary backpack. That's where Her Universe comes in. This mini backpack features Jason's famous hockey mask among some blood spatter. It has plenty of room for anything you'd need to carry to something like Halloween Horror Nights.
Grab it from Hot Topic.
$44.90
Scream Sydney Prescott Not In My Movie Sweatshirt
Look your best in this retro-inspired Scream sweatshirt. It features Sydney Prescott's famous quote from Scream and nice soft cotton blend. Grab it for those cold winter months and remember, Ghostface doesn't only come out to play in October like some other slasher villains…
$40
Other Horror Apparel
Killer Klowns From Outer Space Japanese T-Shirt Hot Topic
A Nightmare On Elm Street Freddy T-Shirt
Trick 'R Treat Follow The Rules T-Shirt
Jaws Ugly Christmas Sweater Sweatshirt
Child's Play Chucky Passport Crossbody Bag
Halloween Michael Myers Stripe Crew Socks
Gift Cards? Nah. Get Them A Subscription To These Streaming Services Instead
Shudder is the premiere streaming service for horror fans. They have an extensive library of original and legacy content for fans to sink their teeth into. They add new content every month and have specials like The Last Drive-In With Joe Bob Briggs.
$5.99 Per Month/%56.99 Annually
Screambox is the alternative option to Shudder. They both have excellent original content and a rotating library of legacy content. However, Screambox is the home to the slasher hit of the year in Terrifier 2. So maybe that horror fan in your life would want a subscription to both?
$4.99 Per Month/$49.99 Annually
For more on Horror, make sure to check back to That Hashtag Show.
Keep Reading: