If you are a fan of the hit Netflix series Stranger Things, then you will want to get ready for Stranger Things Day on November 6. Netflix has announced Stranger Things 4 Volume 2 screenings in cities throughout the U.S. and Canada. These screenings will also include games, giveaways, and other surprises. Also, Netflix revealed that they will host the first ever for the first Stranger Things episode that started it all on Roblox. You can check out the Stranger Things Day details below.
Stranger Things Day 2022
November 6, 1983. The day Will Byers went missing, and the day it all began. Stranger Things Day is a celebration with our core fanbase, to honor the very beginning of where it all started! This year is our 5th annual holiday and we are bringing all things Stranger to our fans both IRL and digitally online.
Screenings: For this year's Stranger Things Day, theaters across North America are hosting screenings of Volume 2 of Season 4 on Sunday, Nov. 6, 2022. Every screening will have trivia, giveaways and other surprises for superfans. They will be held in cities including Los Angeles, New York, Miami, Atlanta, Houston, Dallas, Philadelphia, Chicago, Phoenix, San Francisco, Austin, Texas, Denver, Detroit, Cleveland, Washington, DC, Seattle, Las Vegas, Jacksonville, Florida, and Toronto. Get your tickets now at StrangerThingsDayScreenings.com!
Also Get Excited For: The first ever Immersive Watch Party on Roblox for the episode that started it all – S1, Ep 1! Special guests! Activations at the Stranger Things: the Experience and The Official Store. The latest and greatest when it comes to Stranger gear! And last but not least, watch out for news in the world of Stranger!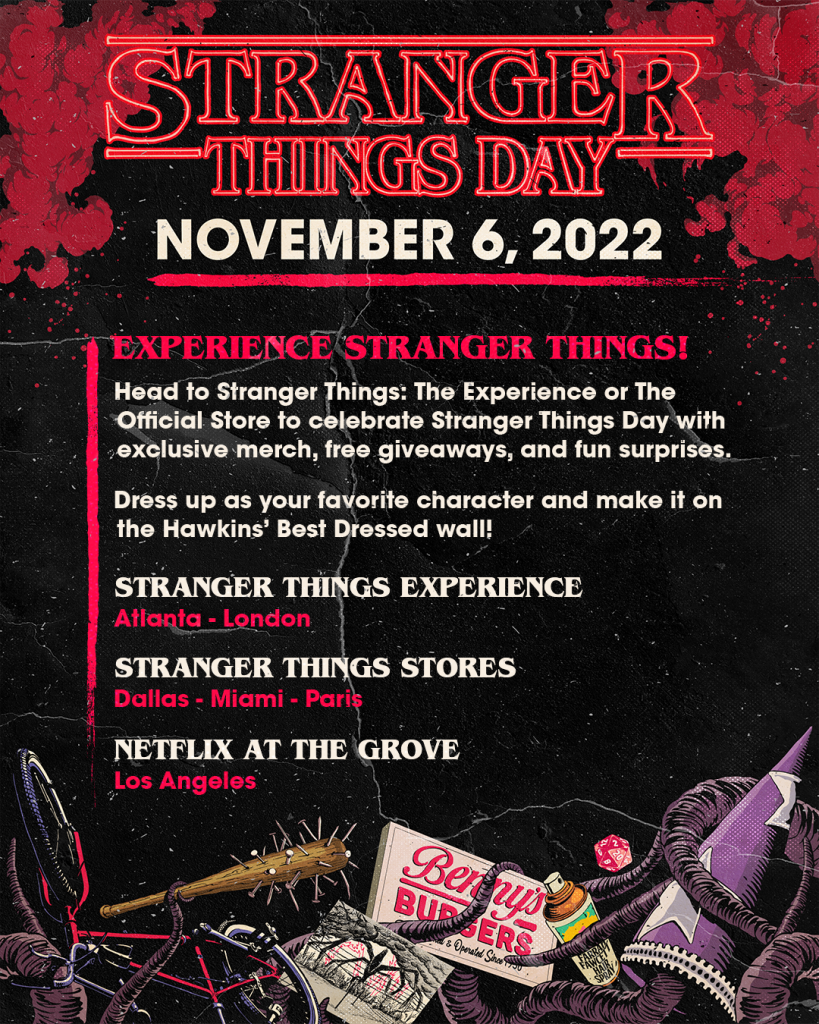 Stay tuned for additional information and more updates on all things Stranger Things Day as the week goes on, follow along with the Stranger Things social media accounts on Twitter @Stranger_Things, Instagram @StrangerThingsTV and Facebook @StrangerThingsTV.
¡spɹǝu 'ʇno puɐ ɹǝʌo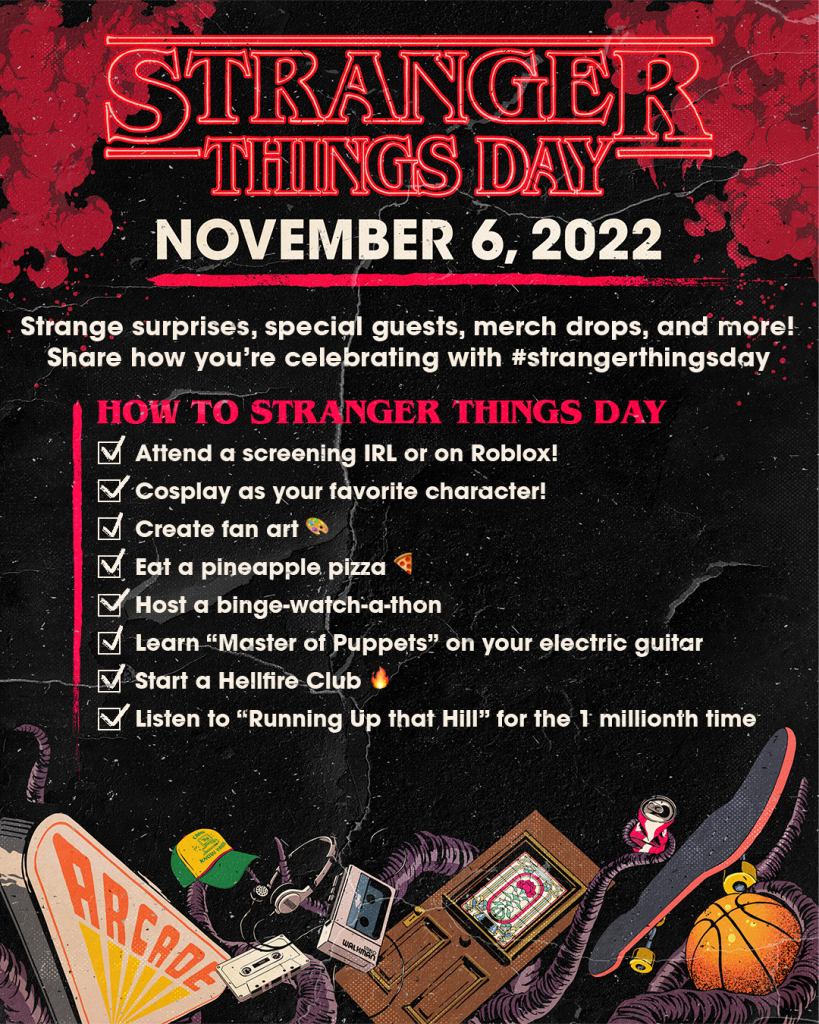 We Want To Hear From You
Are you ready to celebrate Stranger Things Day? What has been your favorite season so far? Also, we must know, who is your favorite character from the series? That Hashtag Show wants to hear from you.
You can tell us your thoughts by leaving a comment below or hitting me up at NerdyVet574. You can also join me on That Hashtag Show Facebook page to chat about all things from the Upside Down. Also, make sure to stay up to date on all the Pop Culture news by following us at ThatHashtagShow.com.