FOR THOSE OF YOU WHO HAVE YET TO SEE YOUNG ROYALS, THIS IS A NON-SPOILER REVIEW FOR SEASON 2.
This week has been a real treat for me, as two of my favorite TV shows from 2021 are releasing their long-awaited sophomore seasons in the span of a couple of days. While I was let down by The White Lotus's newest batch of episodes, I was really hoping Netflix would deliver with their Swedish Queer Drama Young Royals. While everyone was getting swept up in the romance between Charlie and Nick in this year's Heartstopper (which admittedly, I also quite enjoyed)… I couldn't help, but wonder why more people still hadn't caught on to Prince Wilhelm and Simon's intoxicating love story. And now that I have seen Season 2 of the show, all I know is that I am Team Young Royals all the way.
WHAT IS SEASON 2 ALL ABOUT?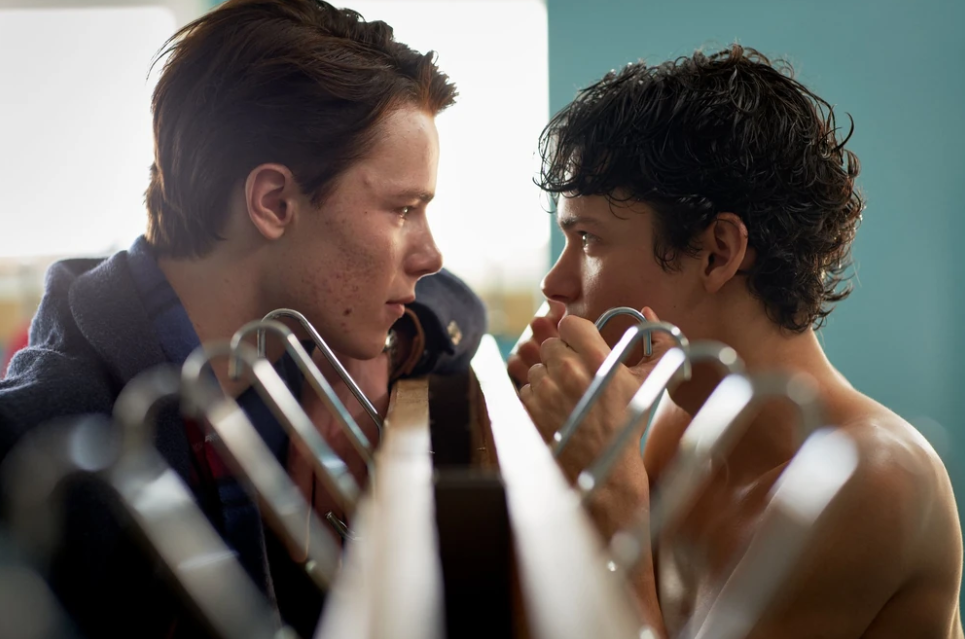 If you haven't seen Season One, I will be dropping spoilers here, so here's your warning. This season, Prince Wille is dealing with not only the death of his older brother, but now being first in line for the throne and his trying to mend his broken relationship with Simon. All Simon wants to do is move on, however. He meets one of the Hillerska stable boys named Marcus, and the two quickly hit it off… much to Wille's chagrin. Althewhile, August and Sara's secret relationship begins to blossom, but his actions regarding the salacious sex tape continue to haunt him.
WHAT ARE SOME OF THE THINGS THAT MAKES THIS SHOW SO SPECIAL?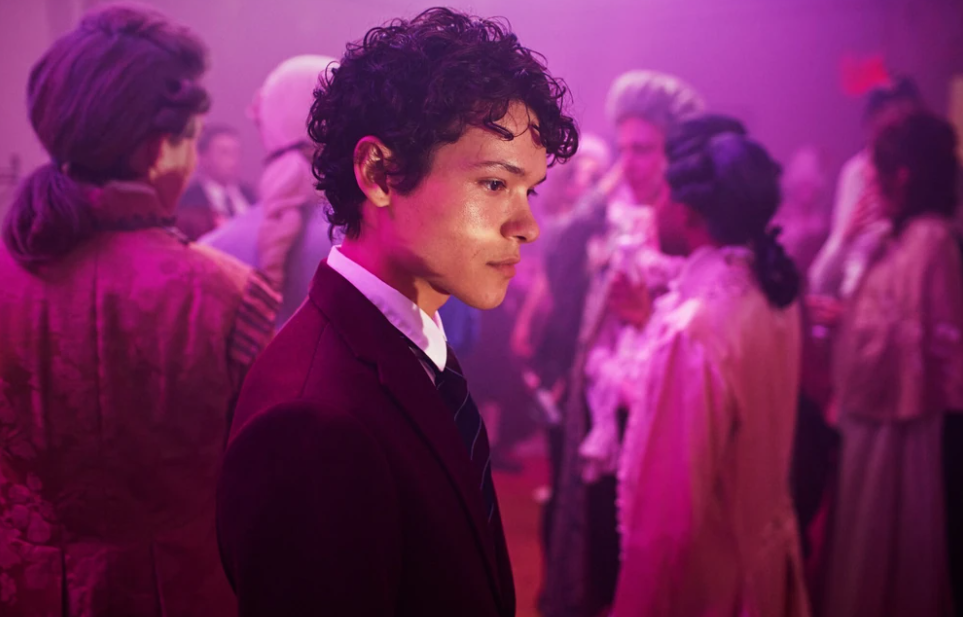 There were so many things about Young Royals that made it stand out to me, as something really special.  The casting of normal-looking teenagers, the incredible cinematography, the awesome soundtrack full of hidden gem tracks, and also the fact that the show felt very grounded; even though its plot felt like it was ripped straight from a soap opera.  And all of those things continue to be true in Season Two, though the make-up department has decided to cover up those blemishes this time around.  
A YOUNG ADULT SHOW THAT DOESN'T TRY TOO HARD TO BE TRENDY…
For a show all about the patriarchy and excess, I love that Young Royals is dedicated to being as raw and genuine as possible.  There are so many instances that the showrunners could have gone over-the-top or extremely melodramatic… yet, these creators trust in their audience enough to not go that route.  Instead, they are able to take this larger-than-life premise and ground it in reality, with just a few extravagant flourishes.  It's also one of the few current young adult television shows that doesn't feel like it's trying too hard to be trendy.  Even series I really enjoy like Love Victor, On My Block, and Cruel Summer are filled to the brim with cringe-worthy dialogue that tries to overcompensate and appeal to the younger generation.  But, Young Royals doesn't do anything of the sort and because of that, feels refreshingly un-trendy and old-fashioned, in a way.  
I really think that has a lot to do with the fact that it's not an American show, to be honest.  In the states, we're so worried about the surface level of being hip and cool, that we forget about the introspective side; the human element.  And that is what Young Royals is all about.  The show is far more concerned with making us feel something palpable than being the next Gossip Girl or Pretty Little Liars.   And it is all the better for it.
HOW IS THE ROMANCE BETWEEN WILLE & SIMON IN SEASON 2?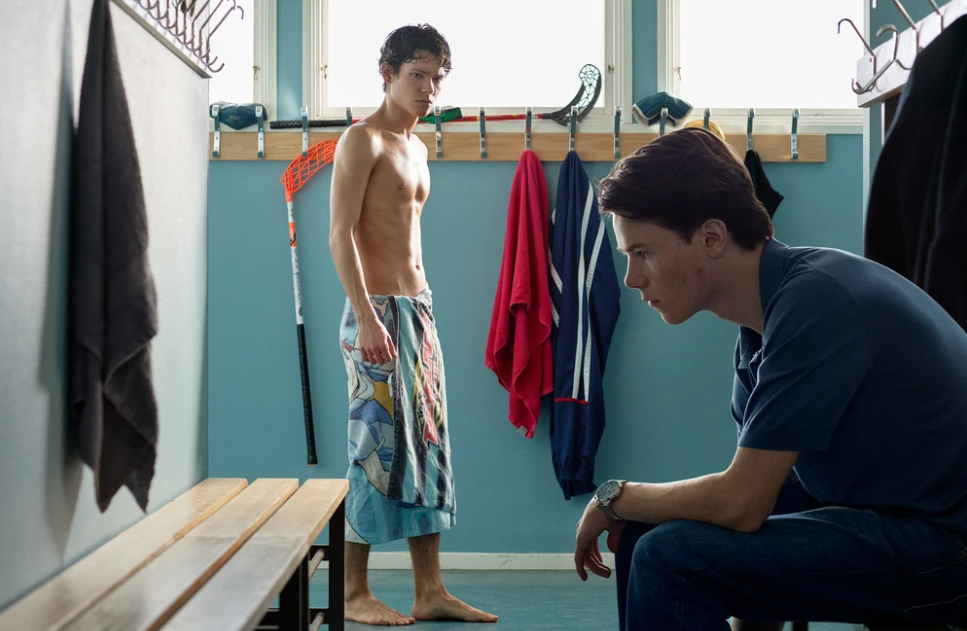 But, you all are here for the romance, right?  I know that I am.  Wille and Simon's budding relationship was one of the most tenderly concocted love affairs I had seen on screen in quite some time.  It is why I fell so hard for the first season.  And the added weight of Wille being next in line for the throne… And the politics surrounding his sexuality provided an extra layer of intrigue to the narrative.  Though it was really Edvin Ryding and Omar Rudberg's honest and thoughtful portrayals that sealed the deal.  In Season Two, they have grown considerably as performers and their fiery chemistry has, as well.  Every time they look into each other's eyes or are just in one another's presence, you can feel their passion and longing.  
NOT ALL SUNSHINE AND RAINBOWS THIS SEASON…
I will say though, that there is a very different vibe to this season… and it might turn off fans of the first. That is because, while Season One was all about their blossoming relationship… Season Two is all about Wille and Simon constantly pushing each other away. It makes for some very frustrating viewing at times. And that tangible excitement of burgeoning love no longer runs through this show's veins.
Now it is all about the hard truths of love… that sometimes just the feeling is not enough, but the circumstances of the situation dictate if it will work or not.  Yet while it might have been a bit infuriating watching these two lovebirds try to deny their love, it also builds the yearning and tension, to even more gargantuan heights than in the first.  It also ensures that the moment the credits begin to roll, you're forced to press the "Next Episode" button.
WHAT ARE SOME OF THIS SEASON'S ISSUES?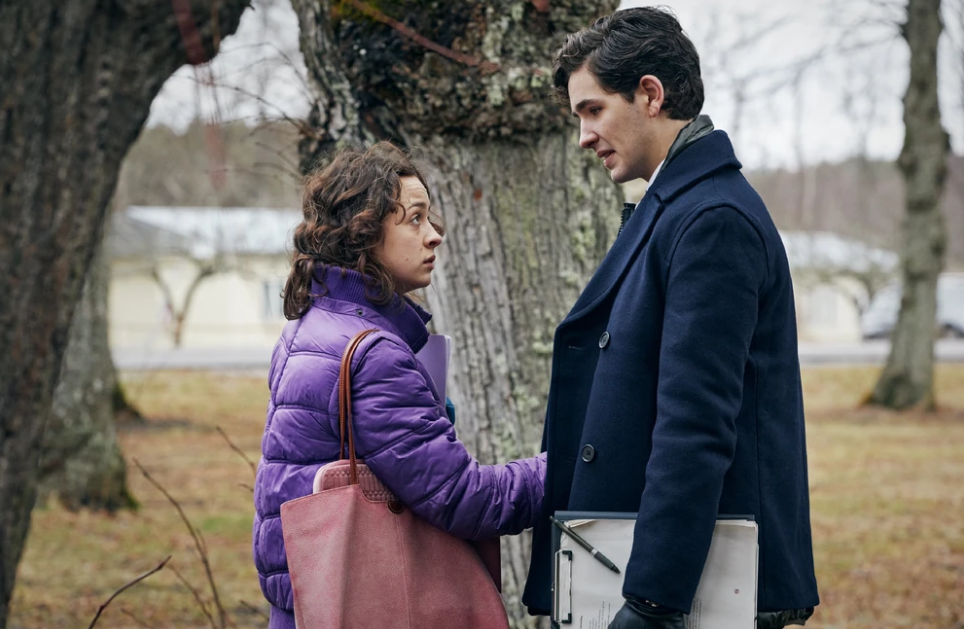 I do have some issues with this season though.  My biggest one is the same problem I had with the first… six episodes is just not long enough to fully transport us into this world.  Just as the show is really picking up steam, storylines are coming to a head and things are getting really juicy… it's over.  I was really hoping that Netflix would allow for a couple more episodes this time around… To fully flesh out these plot threads.  And also to reward patient fans who have been waiting a year and a half for more.  But, unfortunately, no luck there.  One can only hope that Netflix will renew the show and there will be a quicker turn-around for Season 3.
I also think that not as much happens in this season, or at least compared to the last.  The show is still dealing with the fallout of everything that happened in season one, in this finale… This makes me feel like this whole batch of episodes is more of a bridge to get where we are going, than an actual destination.  And while Frida Argento's Sara gets a much more compelling story arc this time around… Poor Nikita Uggla's Felice is given nothing more to do here than be a third-wheel.  
ITS TIME TO STOP SLEEPING ON "YOUNG ROYALS"…
Even so, after finishing Season Two of Young Royals I had the same feelings as when I finished the first. The excitement and butterflies of first love, the melancholy and angst of growing up… and the awareness that I just bore witness to something truly special. It's time for people to stop sleeping on this show and get with the program… because Young Royals is, without a doubt, one of the best television series streaming right now.
All 6 Episodes of Young Royals will be Streaming on Netflix on Tuesday, November 1st, 2022.
For More Reviews, make sure to Stay Tuned to That Hashtag Show!
Keep Reading: