Demon Slayer: Kimetsu no Yaiba is one of the most popular new anime series on the block, and for many very good reasons. You can tell when even the release date for a mere trailer for season 3 hypes people up. I guess the adventures of Tanjiro Kamado and co. are even more popular than I'd thought.
Season 3, Season 3, SEASON 3!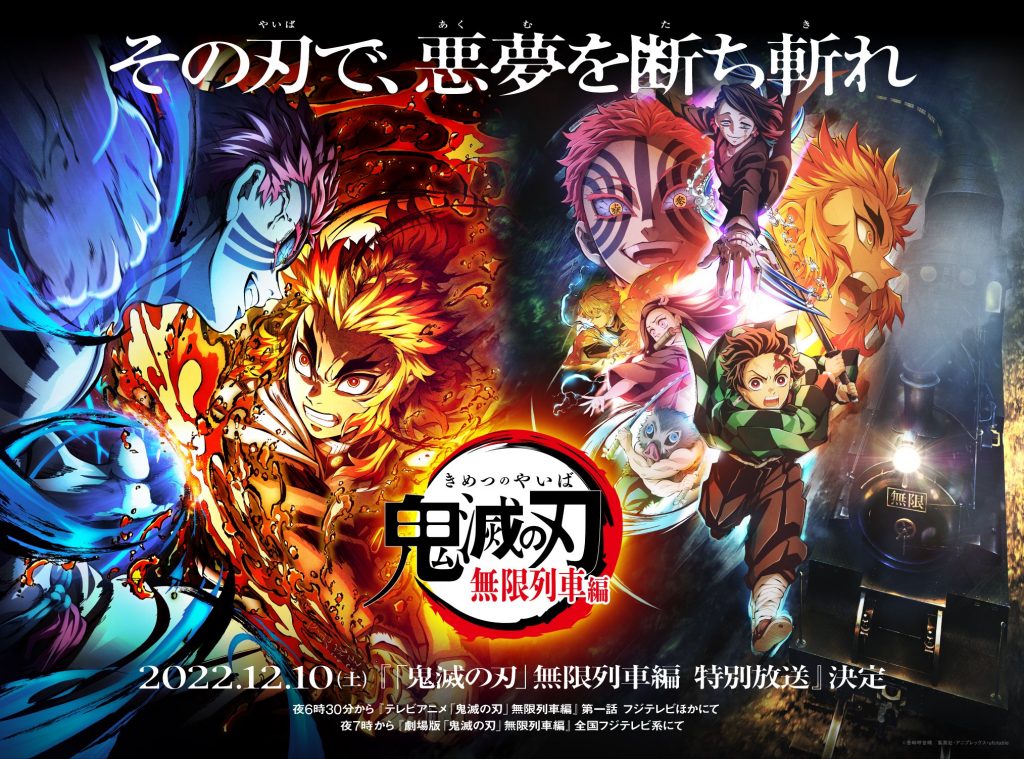 The official Twitter account for Demon Slayer: Kimetsu no Yaiba (as well as its official website) has announced a special broadcast version of the Mugen Train arc will commence on Saturday, December 10, 2022. This special broadcast will consist of 2 parts. The first part will consist of the first episode of the anime adaptation of that arc, which is basically a prequel to the anime film and anime starring Kyojuro Rengoku. The second part will move on to the actual anime film, which details the whole story of that arc. For everyone who enjoyed not only that arc but the anime as well, this will certainly be a treat.
However, that bit about the Mugen Train broadcast isn't the important news. What's important is what will follow immediately after that broadcast. According to official Demon Slayer: Kimetsu no Yaiba sources: a new PV trailer for the long-awaited Swordsmith Village arc will make its debut at that time. This new PV trailer will show immediately after this Mugen Train broadcast. So if you want a sneak peek into season 3 of the anime, then mark December 10 on your calendar. It might be an agonizingly long wait, but it'll very likely be worth it.
Demon Slayer: Kimetsu no Yaiba ~ Details
Demon Slayer: Kimetsu no Yaiba is the anime adaptation of the dark fantasy martial art adventure manga series of the same name by Koyoharu Gotouge. Ufotable (Fate/Zero, The Garden of Sinners, Tales of Zestiria the X) is the animation studio behind this anime. Haruo Sotozaki has been the director for all seasons of the anime, with Akifumi Fujio, Masanori Miyake, Yūma Takahashi, Hikaru Kondo (1-26), and Takashi Takano (34-44) producing. The fantastic duo of Yuki Kajiura and Go Shiina are responsible for the incredible music you hear throughout the anime. Lastly, Crunchyroll has licensed this anime for its NA release.
As for what Demon Slayer: Kimetsu no Yaiba is about? Well, Crunchyroll has an official synopsis for us on the anime's page. Check it out below:
"It is the Taisho Period in Japan. Tanjiro, a kindhearted boy who sells charcoal for a living, finds his family slaughtered by a demon. To make matters worse, his younger sister Nezuko, the sole survivor, has been transformed into a demon herself.

Though devastated by this grim reality, Tanjiro resolves to become a "demon slayer" so that he can turn his sister back into a human, and kill the demon that massacred his family."
You can catch up on all previous seasons of Demon Slayer: Kimetsu no Yaiba on Crunchyroll or Funimation. Note that all future seasons of the anime will debut only on Crunchyroll, so you basically have to be prepared to get a premium account just to watch the impending season 3.
Source: Twitter, kimetsu.com