Are you looking for new releases in Film or Television to watch this weekend of September 30th!? Well, THS has you covered in our weekly series! So, make sure to come back each week as we compile all of our recommendations for you to check out on your days off.
However, I wanted to break down this list and make it a little more personal. Kind of like when you walk into a book store and see the wall of employee recommendations. So, I'll be breaking down this list as to what we at THS are watching, not necessarily every single thing releasing.
JESSICA'S WATCHING
One of the shows I've been most excited for this year, Interview with the Vampire, finally premieres this weekend! I'm also getting spooky with Rob Zombie's The Munsters on Netflix, as well as hitting the theater to catch Billy Eichner's rom-com Bros.
KAT'S WATCHING
I'm catching up on Andor on Disney+
LAURA'S WATCHING
I'll be watching Hocus Pocus 2 on Disney+ of course! Plus season 2 premiere of Ghosts on Paramount+. Then, House of the Dragon on HBOMax with a little bit of a New Girl rewatch thrown in there.
SHAWN'S WATCHING
This is a great weekend for independent films, that you can stream from the comfort of your own home.  IFC Films' has their visually stunning, original sci-fi "Vesper", Saban Films is releasing the new supernatural genre-bender "Mona Lisa and the Blood Moon" and there is also A24's powerful family drama "God's Creatures".  All three of these are certainly worth your time this weekend! 
RHETT'S WATCHING
The Book of Delights and the fourth episode of Andor on Disney+.
SARAH'S WATCHING
I've got a busy watching weekend ahead of me. First, heading to the theaters to check out Smile and Bros – two very different vibes. Then, I can't watch to start watching the new season of The Might Ducks: Game Changers – Season 2 on Disney+. Finally, my Sunday will be fully dedicated to the new adaptation of Interview with the Vampire on AMC+!
BENJY'S WATCHING
Muppets Haunted Mansion, and then I'll check out Amphibia. All on Disney+.
JJ'S WATCHING
TRAVIS'S WATCHING
I'll be lighting the Black Flame Candle and watching Hocus Pocus 2 on Disney+. I will also be watching the latest episode of Andor and She-Hulk.
Hunter's Watching
I'm going to check out My Best Friend's Exorcism over on Prime Video!
NEW RELEASES – WHAT ELSE YOU CAN WATCH THIS WEEKEND?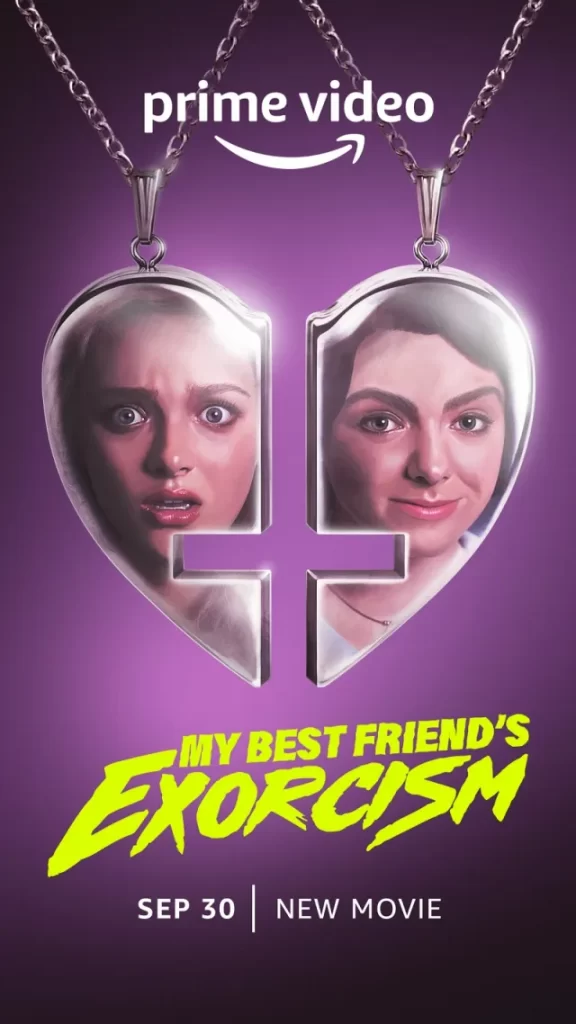 NEW IN THEATERS SEPTEMBER 30TH!!
Smile
Follows a doctor whose mind begins to turn on her after she witnesses a traumatic event that involves a patient.
Bros
Follows two men with commitment problems attempting a relationship.
Vesper [LIMITED]
After the collapse of Earth's ecosystem, Vesper, a 13-year-old girl struggling to survive with her Father, must use her wits, strength, and bio-hacking abilities to fight for the future.
The Good House [LIMITED]
New England realtor and not-so-recovering alcoholic Hildy Good's perfectly compartmentalized life starts to come apart at the seams when she forms a new friendship with Rebecca McCallister. As Rebecca becomes the subject of town gossip, Hildy rekindles an old flame with Frank Getchell, a tell-it-like-it-is Yankee, who tries to un-complicate her complicated life.
Luckiest Girl Alive [LIMITED]
Ani FaNelli, a 28-year-old New Yorker, appears to have it all: a sought-after position at a women's magazine, a killer wardrobe, and a dream wedding with her handsome fiancé on the horizon. But behind Ani's veneer of perfection lies a dark trauma from her past, which resurfaces to unravel her crafted life.
Devil's Workshop [LIMITED]
In this chilling psychological thriller featuring Emile Hirsch (Into the Wild), struggling actor Clayton (Timothy Granaderos, "13 Reasons Why") is desperate for a role as a demonologist. He contacts Eliza (Radha Mitchell, Man on Fire), an expert in devil lore, to help him prepare and spends the weekend at her home. Eliza forces Clayton to confront his troubling past, perform dark rituals, and sacrifice a goat. Does she want to help Clayton, seduce him—or destroy him? The shocking climax will set your soul ablaze.
Mona Lisa and The Blood Moon [LIMITED]
Kate Hudson and Jun Jong Seo star in this mind-bending thriller from visionary director Ana Lily Amirpour (A Girl Walks Home At Night). When a struggling single mother (Hudson) befriends a mysterious mental institute escapee with supernatural powers (Jong Seo), she sees a lucrative opportunity to make some fast cash. But when they draw the attention of a detective (Craig Robinson), their luck starts to run out as the cops close in on their crime spree.
Spirit Halloween The Movie [LIMITED]
When a new Spirit Halloween store opens in a deserted strip mall, three middle school friends who think they've outgrown trick or treating make a dare to spend the night locked inside the store Halloween night. But they soon find out that the store is haunted by an angry evil spirit who has possessed the creepy animatronic characters. The kids will need to embark on a thrilling and spooky adventure in order to survive the night and avoid becoming possessed themselves.
NEW VOD SEPTEMBER 30TH!!
The Munsters
A family of friendly monsters never quite get why people react in terror to them.
The Girl at the Window
A teenage girl in the suburbs becomes convinced that her mom's new boyfriend is the serial killer terrorizing the town, and will stop at nothing to prove it.
Deinfluencer
A cheerleader is imprisoned and made to jump through social media challenges for a seemingly motivated kidnapper – but does he want more than he is saying? Things get more complicated when Kelly has to fight not only for her life, but also for lives of other young women.
NEW ON AMC+ SEPTEMBER 30TH!!
INTERVIEW WITH THE VAMPIRE [SERIES PREMIERE]
A modern, unforgettable retelling of Anne Rice's best-selling novel, Interview With The Vampire. Starring Jacob Anderson (Game of Thrones), Sam Reid (The Newsreader), Bailey Bass (Avatar: The Way of the Water), and Eric Bogosian (Succession). Premieres October 2nd on AMC and AMC+.
NEW ON PARAMOUNT+ SEPTEMBER 30TH!!
CHECK BACK NEXT WEEK
NEW ON HBOMAX SEPTEMBER 30TH!!
HOSTAGES [DOCUMENTARY]
On November 4, 1979, Iranian student activists stormed the U.S. embassy in Tehran, taking over 60 Americans hostage. What was planned as a 48-hour sit-in to protest American imperialism, ballooned into an international crisis and 24/7 media event that would last 444 days. With never-before-seen archival footage and revelatory new interviews with the American hostages and Iranian hostage-takers alike, the series is a gripping chronicle of one of the most dramatic international deadlocks in American history, a deep dive into the geo-political history that led to the crisis, and an exploration of the political fallout that reverberates today.
NEW ON DISNEY+ SEPTEMBER 30TH!!
Hocus Pocus 2
A spooky sequel to the 1993 Halloween cult classic Hocus Pocus.
The Mighty Ducks: Game Changers Season 2 – Episode 1
Even in the off-season, the Ducks fly together!
Under Wraps 2
Amy is preparing for her father's Halloween-themed wedding to his fiancé Carl when Amy, Gilbert and Marshall discover that their mummy friend Harold and his beloved Rose may be in danger. Stobek, an evil mummy with a thousand-year-old grudge against his best friend-turned bitter rival Harold, is unexpectedly awakened and out for revenge. With help from his hypnotized lacky Larry, Sobek kidnaps Rose, and Amy, Gilbert, Marshall, Buzzy, and Harold must use their skills once again to save her and get back in time to attend the wedding.
NEW ON NETFLIX SEPTEMBER 30TH!!
Blonde
The biopic will be based on an imaginary Marilyn Monroe memoir.
Entergalactic (Series)
Animated story about a young artist named Jabari ( Scott "Kid Cudi" Mescudi) as he attempts to balance love and success. Finding the latter brings Jabari a step closer to the former, when moving into his dream apartment introduces him to his new neighbor, photographer it-girl, Meadow ( Jessica Williams).
NEW ON HULU SEPTEMBER 30TH!!
RAMY SEASON 3
Caught between a religious Muslim community who believes life is a moral test and a millennial generation that doubts an afterlife exists, Ramy and his family navigate spirituality in their politically-divided New Jersey neighborhood.
NEW ON PEACOCK SEPTEMBER 30TH!!
CHECK BACK NEXT WEEK
NEW ON APPLETV+ SEPTEMBER 30TH!!
The Greatest Beer Run Ever
John Donohue leaves New York in 1967 to track down and share a few beers with his childhood buddies in the Army, while they were fighting in Vietnam.
NEW ON PRIME VIDEO SEPTEMBER 30TH!!
Argentina, 1985
ARGENTINA, 1985 is inspired by the true story of Julio Strassera, Luis Moreno Ocampo, and their young legal team of unlikely hero's in their David-vs-Goliath battle, in which, under constant threat, they dared to prosecute Argentina's bloodiest military dictatorship against all odds and in a race against time to bring justice to the victims of the Military Junta. 
My Best Friend's Exorcism
Set in 1988, after an evening of skinny-dipping goes disastrously wrong, Gretchen begins to act more and more different, as Abby slowly comes to believe her friend has become demonically possessed. Both girls must soon face a tough question: is their friendship strong enough to beat the Devil?
JUNGLE
JUNGLE is coming to Prime Video on the 30th of September, starring Ezra Elliott, Amaria BB, Nadia A'Rubea, Jordan McCann, Unknown T, Tinie Tempah, Big Narstie, Dizzee Rascal, Rimzee, IAMDDB, BandoKay, J Fado, K Koke, Skengdo, AM, Poundz, M24, Jaykae, Double Lz.
KEEP READING