Yes, the new Andor series takes us back to a known Star Wars character with a known fate. Notwithstanding, there is no question that the series will also give us something, many things, we've not seen in the franchise before, or have only seen in glimpses. The Empire, the galactic civil war, both affect billions of beings beyond our favorite scoundrels, princesses, and Jedi. Andor will illustrate that in full detail, and show us just how much the galaxy's strife will whip its denizens into a rebellious frenzy. It's backstory, but it's new storytelling. That's good, right? In sadly, stereotypical fashion, many fans don't think so. Thus the age-old Star Wars question rears its ugly head – Will the fan base ever be satisfied?
There is a far greater galaxy far, far away than what we've seen the predominantly hero-centric stories thus far…. But we've barely seen any of it. Granted, Rogue One showed how non-lightsaber-wielders can also be heroes. Solo showed us a bit of the criminal underworld, but honestly, nothing particularly substantive. The Mandalorian and The Book of Boba Fett, while gritty, are still steeped in nostalgia. Andor really is something new; it's dark, complex, morally ambiguous, deeper, and more thought provoking than prior Star Wars entries. But because it's more introverted in terms of development, fans are decrying it as "boring," "slow," and "bland."
Why aren't Star Wars fans satisfied with Andor?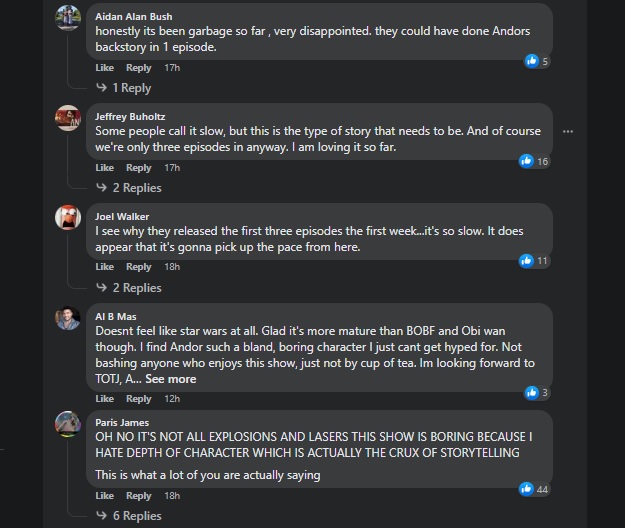 The comments above are just a smattering from the Star Wars Facebook post about the Andor series. One commenter even goes so far as to call the show "garbage." Another deems it "forgettable." Still, others are loving it and watching it with a completely different perspective. Reading all the social media comments makes me question whether many fans are capable of accepting something different at this point. Perhaps it's not the content that's dividing the fan base, but complacency.
One comment seems to nail the conundrum on its head (which I'll repeat here with punctuation and without the ALL-CAPS of the original):
"Oh no! It's not all explosions and lasers! This show is boring because I hate depth of character, which is actually the crux of storytelling!"
That… is actually not too far off base.
Is the pace to blame, or fans' lack of patience?
We've grown accustomed to stories starting off with a bang, for sure. From the opening battle of A New Hope, to the chaotic commencement of Revenge of the Sith, to the events of Order 66 opening The Bad Batch, Star Wars typically gets to the action in a hurry. Andor, of course, doesn't do that. But… it doesn't need to, and shouldn't. It's not that kind of story. Yo're not going to see lightsabers and "hero" battles. It's a crime and espionage drama. In it we'll see the true seeds of rebellion planted and sown. Maybe this isn't for everyone, and that's fine. What saddens me, though, is how quickly fans jump to judge the series on three episodes because it's not what they're used to. That's a shame, because the series looks to be a compelling journey through the previously unseen underside of the galaxy far, far away.
Andor airs Wednesdays on Disney+.