As a young girl, I always related to the strong-willed, breaking-the-mold female characters whether in cartoons like Megara in Hercules or humans Joey Potter in Dawson's Creek. So, anytime there's a similar character or storyline coming out I will jump at the chance to watch. Catherine Called Birdy follows the mold of the likes of Enola Holmes, Hermione Granger (Harry Potter), and Elsa (Frozen).
WHAT IS CATHERINE CALLED BIRDY?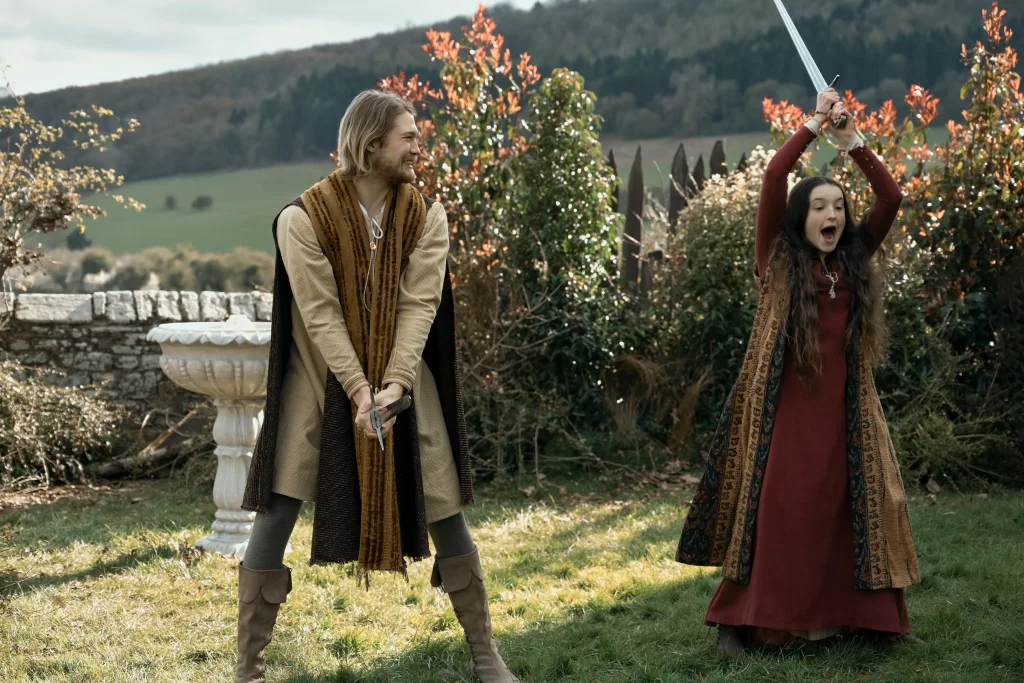 Catherine Called Birdy is based on the novel of the same name by Karen Cushman. It tells the story of a 14-year-old girl growing up in Medieval England. Birdy is a tomboy. She's outspoken and unapologetically unladylike. Sadly, her family is financially destitute. So, what does any Lord of the time do? Try to marry off his daughter to a rich man, of course! However, Catherine is having none of it and continuously thwarts her father's plans. Every suiter he brings her is either too old (81!) or way too young (9!). But when the most heinous suiter arrives, he's not turned off by her efforts. Instead, he's weirdly into it. So, what happens next? Will Catherine's father really sell her off?
BELLA RAMSEY IS A JOY AS CATHERINE
Starring as Catherine is Bella Ramsey (Game of Thrones). Ramsey is absolutely fantastic as Catherine. She's so fun and whimsical. The complete opposite of Lyanna Mormont, her character on Game of Thrones. Her best friend, Aelis, is played by Isis Hainesworth (Metal Lords). The two are inseparable and their friendship's ups and downs are enjoyable to watch – which sounds strange, but I promise makes sense.
Catherine is a very selfish character in the beginning. Which isn't uncommon for young people of her age. Throughout the film, she realizes that the world doesn't revolve around her. Other people's happiness, wants, and dreams are just as important, and in the end, she learns a huge lesson.
The rest of the cast in Catherine Called Birdy is made up of stellar actors. Her father, Lord Rollo is played by Andrew Scott (Fleabag). He plays a great loser, who is madly in love with his wife, son, and sometimes his daughter. Her mother, Lady Aislinn, is played by Billie Piper (Dr. Who) is lovely as the matriarch of her family offering advice wherever needed. Dean Charles-Chapman (1917) plays her brother Robert, and Joe Alwyn (Conversations with Friends) portrays her uncle, George. The two do their job of helping Catherin learn some difficult life lessons,
CATHERINE CALLED BIRDY IS MODERNLY MEDIEVAL
Some people may want purely historically accurate portrayals in stories like this. However, I'm not one of them. I love the use of more modern makeup looks (glitter eyeshadow for the win), and the updated and modern score/soundtrack a la Bridgerton. I think it helps set the tone for what we're about to see. It's going to be a fun ruckus of a good time.
My only negative is the same thing I always complain about. There's no reason this film should be almost 2 hours.
Catherine Called Birdy is an Amazon Studios release currently in theaters and on Prime Video on Oct. 7th, 2022.
KEEP READING