I had a chance to go to Disney Animation Studios to experience and discuss the new film Strange World coming soon to theaters. Listening to the creators of this new film is always such a treat. You can see how much passion and creativity went into every single aspect of the film. Along with the Q&A, we also got to watch clips of the upcoming film, and take photos with their new adorable creature, Splat. I also got to put my voice into the movie! Check out our social media for that treat.
Check out this fantastic Stange World Photo Op!
The masterminds behind Strange World are Director Don Hall (Big Hero 6) and co-director and writer Qui Nguyen (Raya the Last Dragon). Producing the film is Roy Conli who brought us some of Disney's biggest hits. Along with listening to Don Hall and Qui Nguyen discuss the project. we also got to hear from Production Designer Mehrdad Isvandi, Head of Environments Sean Jenkins, Head of Animation Amy Smeed, as well as Justin Sklar.
The story of Strange World is inspired by Hall and Nguyen's own journey as fathers and say that this film is a love letter to their children, and their fathers.
CHECK OUT THIS STRANGE WORLD!
Learning about how a huge animated feature film like this comes together was fascinating. There are so many choices that go into the film outside of who's going to voice these incredible characters. When creating the uncharted world, the animators were challenged with creating a world we've never seen before. As we know, Disney pays extensive attention to detail. So, when building their worlds they consulted biologists, farmers, paleontologists, you name it.
That being said, creating a strange new world isn't without its challenges – mostly created by their own dreams for the film. One of these major creative challenges was that they were not allowed to create this new world using the color green, earth tones, or even faces!! Can you imagine?! Instead, they had to dive into their imaginations and create creatures we have never seen before with a difficult color palette, and now facial expressions. Fun fact: some of them were inspired by food.
Don Hall and Qui Nguyen made this choice for the color palette because they wanted this new world to be nothing like their homeland of Avalonia. Avalonia is lush with greens, trees, and mountains. They also wanted everything in this uncharted land to be a surprise. This way the two lands would never be confused for each other.
YOU CAN'T ENTER A STRANGE WORLD AND NOT MAKE A NEW FRIEND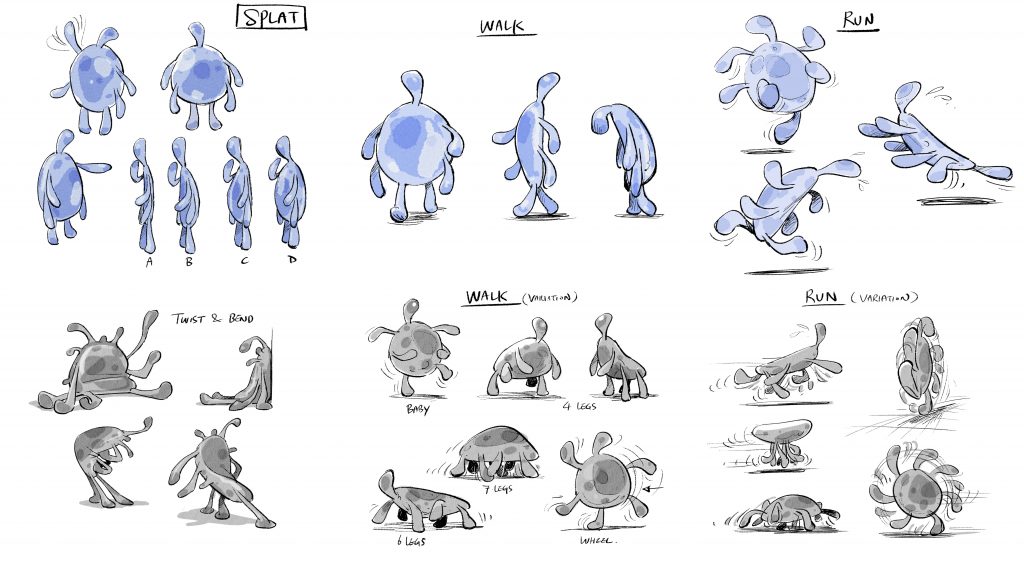 Another one of the biggest challenges along the way was creating a faceless, voiceless creature named Splat! Yes, the Clade's already had a dog, but just like Carpet in Aladdin or the Broom in Fantasia who doesn't love a voiceless guide? The team also made sure to let us know that no…Alan Tudyk did not voice him. His sounds all come from foley. So, not only did the foley team create an incredible sound design for Strange World, but also an entire language for Splat.
Splat also is not a shapeshifter. What you see is what you get. So, not only is Splat a good mix of adorable and creepy he's also great at charades.
MEET THE CLADES!
Our adventurous family in Strange World is the Clades: Jaeger, Searcher, Ethen, Meridian, and of course their dog, Legend. Fun Fact: Legend is created by and named after Disney Animation Legend, Burny Mattinson.
Jaeger Clade is an adventurer through and through. When off finding new lands, Search comes across a plant that he needs to bring back home. Jaeger disagrees and continues on by himself. This plant is like Vibranium. When brought back to Avalonia it helps them enhance their village in every way. However, life doesn't always stay perfect. The plants and crops begin dying. Then, Searcher's friend Callisto shows up one day needing his help to explore an uncharted world of her own.
Fun Fun Fact: Ethan's name was originally Ranger. However, it never really fit and so they changed it. It was also a creative choice. Searcher is trying to not be like his own father. So, obviously, he'd choose the least adventurous name possible for his own son.
In case you are on the fence, Strange World has an all-star cast. The film features the voices of (clockwise from top left in the image above) Lucy Liu as Callisto Mal, the leader of Avalonia; Jake Gyllenhaal as farmer and father Searcher Clade; Dennis Quaid as a diehard explorer and Searcher's father, Jaegar Clade; Gabrielle Union as pilot and mother Meridian Clade; and Jaboukie Young-White as the youngest Clade, Meridian and Searcher's son, Ethan. Need I say more?
Strange World opens exclusively in theatres on November 23rd!
KEEP READING