One Way tells the story of a dude named Freddy, who seems to have an in with a really big crime family. However, after stealing from his former crime boss, he's shot and goes on the run with a duffle bag full of cash and drugs. Now, he needs to live in order to outrun his pursuers and get the money to his ex and daughter.
ONE WAY THE PERFECT VEHICLE FOR COLSON BAKER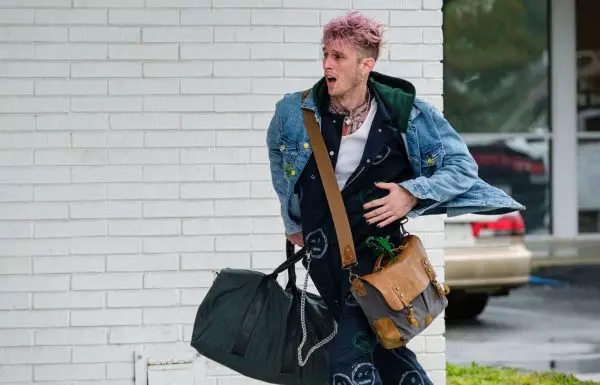 We all know Colson Baker as Rapper/Punk Pop Star Machine Gun Kelly. Or as I like to call him, Mr. Megan Fox. He's been trying his hand at acting for a while now with roles ranging from bit parts, supporting, and leads. Personally, my favorite role he's done is in Netflix's The Dirt as Motley Crue drummer, Tommy Lee. When it comes to One Way, if you're going to need Baker to carry an entire film this is the way to do it. He is surrounded by GREATS from Kevin Bacon (They/Them), Drea de Matteo (Sons of Anarchy), Storm Reid (Euphoria), and Travis Fimmel (Vikings) that help propel his performance and the story going.
While it was a good role for Baker, the film itself is pretty mid
Nothing really happens in One Way. There are no big resolve or revolutionary moments. Anything that's supposed to feel like a big reveal falls flat. The storyline with the young girl on her way to meet an older guy in another city/state is wildly underdeveloped. I understand it's supposed to pull on Freddy's heartstrings because she reminds him of his daughter, but in the end, needed more.
One Way views like a really long scene that belongs in another movie or television show. I wish we saw more of what was going on behind the scenes outside of Freddy and the bus. Then, it would feel like a whole movie and not a drawn-out 5 min scene.
You can currently catch One Way in theaters or VOD!
KEEP READING