Well, it's not official, but it appears that we now have our release date for the second half of the Spy x Family anime. Unofficially, of course. All thanks to their new key visual.
Accidental Intel Leak?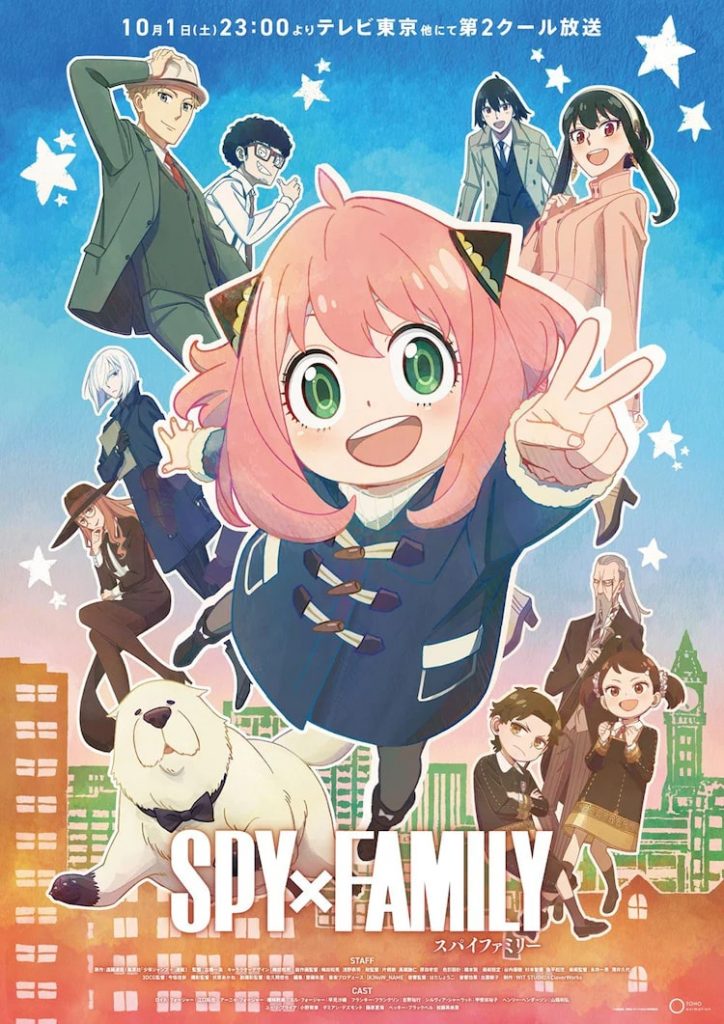 Japanese entertainment news website Comic Natalie recently posted a new key visual for the second cour of the Spy x Family anime. You can in fact see said key visual above, starring Anya Forger and all the people important to her in her life around her. In particular, you notice the suspiciously capybara-shaped dog in the bottom left. He hasn't appeared yet in the anime as of this writing, but fans of the manga will recognize Bond the family dog and will be eagerly anticipating his appearance in the second cour.
However, attentive readers might notice the Japanese text in the top of the key visual. That text reveals that Spy x Family second cour will make its Japanese debut on October 1, 2022. That's just over a month away as of this writing, so you won't have long to wait if Crunchyroll plans to simulcast it on that date. Unfortunately, we don't yet have any official confirmation from Crunchyroll that this is the case. Heck, we don't even have an official English version of that key visual above yet. Tune back in to THS later to find out when we do.
Spy x Family: Details
Spy x Family cour 2 is the second cour (unit of production in Japanese TV programs equivalent to approximately 11 to 13 episodes) of this anime, which is itself the anime adaptation of the action comedy spy manga of the same name by Tatsuya Endo. Wit Studio (Attack on Titan, The Ancient Magus' Bride, Ranking of Kings) and CloverWorks (Fairy Tail season 9, The Promised Neverland, Wonder Egg Priority) animated cour 1, but it's unclear if they're still animating cour 2. Kazuhiro Furuhashi directed and wrote for the anime, with Makoto Miyazaki and Shūhei Mutsuki of [K]NoW_NAME composing the music. Lastly, Crunchyroll licensed this anime for its NA release.
As for what Spy x Family is about? Well, Crunchyroll has an official synopsis for us on the show's page. Check it out below:
"World peace is at stake and secret agent Twilight must undergo his most difficult mission yet—pretend to be a family man. Posing as a loving husband and father, he'll infiltrate an elite school to get close to a high-profile politician. He has the perfect cover, except his wife's a deadly assassin and neither knows each other's identity. But someone does, his adopted daughter who's a telepath!"
You can catch up on Spy x Family cour 1 on Crunchyroll or Hulu.
Source: Comic Natalie
Keep Reading: