It appears that we finally get to know when Legend of Mana: The Teardrop Crystal comes out. At least, according to this new PV trailer. Don't believe me? Then check it out for yourself below:
Legend of PV Trailer: The Hype Intensifies!
Warner Bros. Japan Anime has just posted a new PV for Legend of Mana: The Teardrop Crystal on YouTube. The PV trailer is incredibly short at only 15 seconds long. It's even shorter when you realize that only 12 seconds of it is the actual PV trailer. Still, those 12 seconds do give us a look at the high quality of this anime adaptation, complete with some nice singing as background music. We also get to hear 2 of the male main characters speak, although most of it appears to be a promotion for the anime series.
Fortunately, the last 3 seconds of the PV trailer gives us some important info. Apparently, Legend of Mana: The Teardrop Crystal will make its debut on October 7, 2022. Unfortunately, this is for the Japanese premiere date only. We still have no idea when this anime will premiere on NA shores. That's something we'll have to wait for them to give us later. Tune back into THS to find out when we do.
Legend of Mana: The Teardrop Crystal ~ Details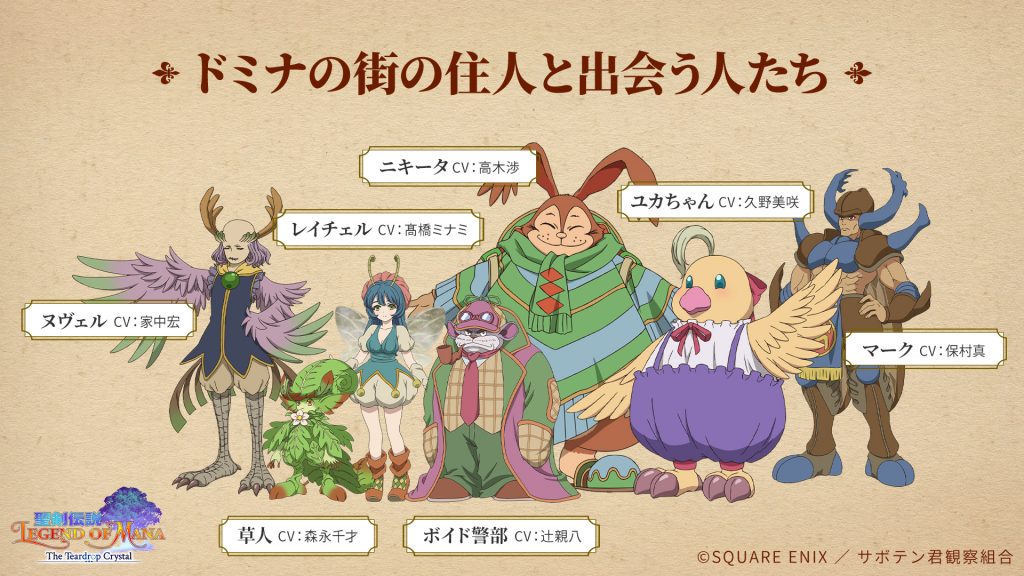 However, that's not all that Legend of Mana: The Teardrop Crystal has for us today. The anime's official Twitter account gives us a new image above, giving us a collection of new characters for the anime. Aside from their rather colorful and varied designs, they also give us their names and voice actors/actresses. Crunchyroll has a list of the character names, voice talent, and any notable anime roles they were in. You can check them out below:
There is a single oddity here though. The big bunny character is named Nikita according to the katakana for his name. However, Crunchyroll lists him as Niccolo. There is no explanation for this discrepancy or even any mention of it. I suppose we'll have to wait for Legend of Mana: The Teardrop Crystal to make its debut to see if this discrepancy can be resolved.
Source: Warner Bros. Japan Anime YouTube, Twitter, Crunchyroll News