There's a reason why Bungo Stray Dogs is so popular; popular enough to get a 4th season of the anime. You can check out the new trailer for the new season for yourself below, and see why:
When Authors Attack: Part 4
KADOKAWAanime just released that new PV trailer for the upcoming Bungo Stray Dogs season 4 above on YouTube. This new PV trailer showcases the weird mix of action and comedy that this anime is well-known for. I mean seriously, when some mustachioed weirdo steps out of a drop pod that just smashed into the ground like it's nothing, you know you're in for some action-packed insanity. The PV trailer also shows off an interesting tidbit about handcuffs used by Japanese police: apparently the handcuffs work by pressing the rim to a suspect's arm, causing an arm to swing around and lock into place. It's a very clever handcuff design that allows someone to be handcuffed in a moment's notice. Probably has nothing to do with the story, but it's a neat detail regardless.
Aside from that though, this new PV trailer actually gives us a release window for when we can expect this anime. Apparently, Bungo Stray Dogs season 4 will make its debut sometime in January 2023. Presumably, we'll get a more specific release date as we get nearer to that window. Tune back in later to find out that info when we do.
Bungo Stray Dogs: Details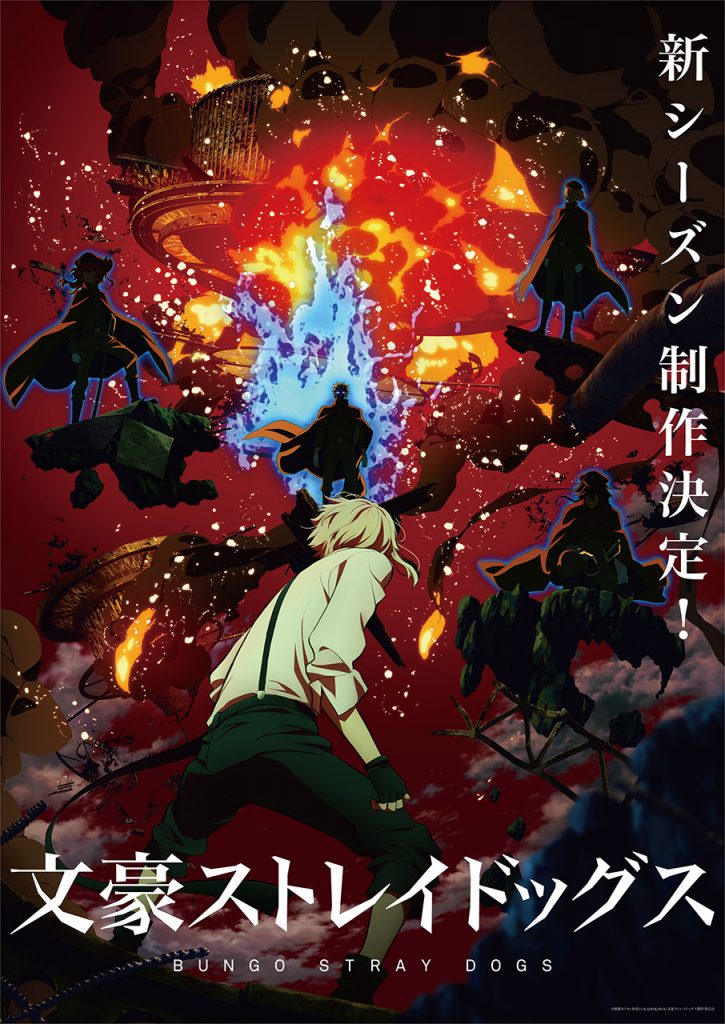 Bungo Stray Dogs season 4 is the 4th season of the anime, which is itself the anime adaptation of the supernatural action mystery manga of the same name by writer Kafka Asagiri and artist Sango Harukawa. Bones (Fullmetal Alchemist, Mob Psycho 100, My Hero Academia) is the animation studio behind this anime. Takuya Igarashi is the director, with Junichirō Tamura and Chiaki Kurakane producing, Yōji Enokido writing, and Taku Iwasaki composing the music. Crunchyroll licensed this anime for its NA release.
As for what Bungo Stray Dogs is about? Well, Crunchyroll has an official synopsis on the anime's page for us. Check it out below:
"Kicked out of his orphanage and on the verge of starving to death, Nakajima Atsushi meets some strange men. One of them, Dazai Osamu, is a suicidal man attempting to drown himself in broad daylight. The other, bespectacled Kunikida Doppo, nervously stands by flipping through a notepad. Both are members of the "Armed Detective Agency" said to solve incidents that even the military and police won't touch. Atsushi ends up accompanying them on a mission to eliminate a man-eating tiger that's been terrorizing the population…"
You can watch all the previous seasons of Bungo Stray Dogs on Crunchyroll.
Source: KADOKAWAanime YouTube