This past week Spider-Man fans were introduced to the new era of the Spider-Verse with the release of EDGE OF SPIDER-VERSE #1. Not only will this series transform the Sider-Verse as we know it; but it will also lead us up to the upcoming SPIDER_MAN #1 that will be heading our way this October. For fans that can't wait to see what the future holds, Marvel has released some details for the upcoming EDGE OF THE SPIDER-VERSE #3. This upcoming issue will hit your local comic shops on September 14, 2022. You can check out the official details below.
NIGHT-SPIDER GOES ON THE PROWL, SPIDER-MAN: INDIA RETURNS, AND THE ORIGIN OF SAKURA-SPIDER REVEALED IN EDGE OF SPIDER-VERSE #3 FROM MARVEL COMICS
This past week, the Spider-Verse as we know it was transformed! EDGE OF SPIDER-VERSE #1 marked the beginning of a new era of Spider-Verse storytelling with a new status quo for Araña, the roaring debut of Spider-Rex, and more! And things are only just getting started as each issue of this new limited series will contain more thrilling additions to the Spider-Verse mythos in the form of new heroes, fresh journeys for iconic favorites, and the rise of a dark threat that could end the Spider-Verse for good. The series will serve as the foundation for Dan Slott's next Spidey epic, beginning in October's SPIDER-MAN #1.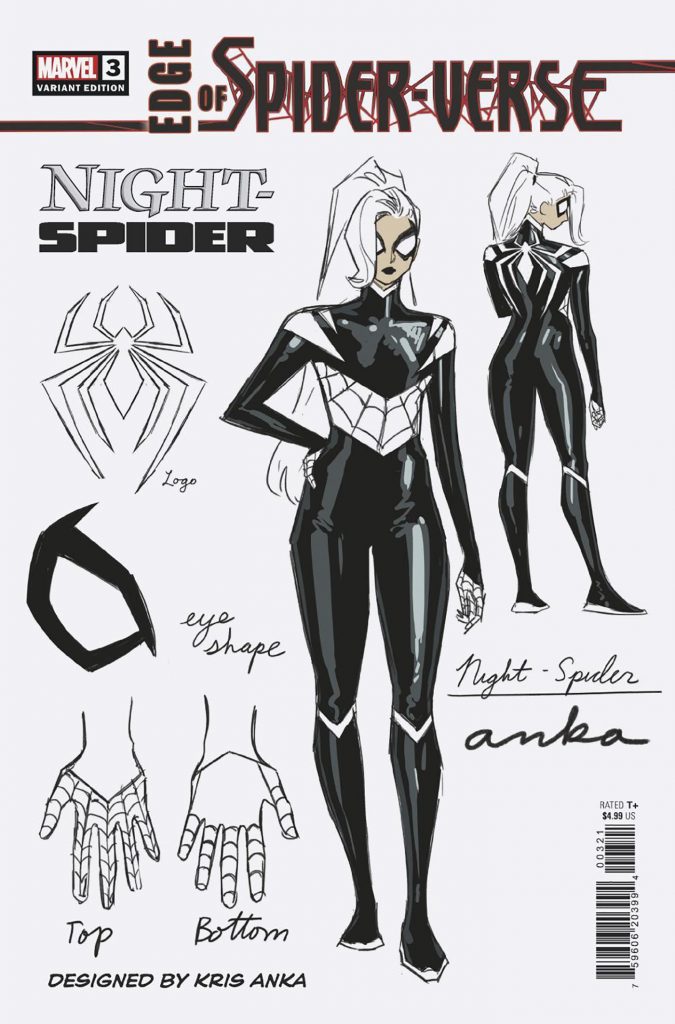 Here's what Marvel fans can expect from the third issue in this exciting saga.
What if Felicia Hardy became a Spider-hero? Dan Slott teams up with artist Sumeyye Kesgin to answer that question with the debut of super thief Night-Spider! Check out her sleek look, designed by artist superstar artist Kris Anka, in a special design variant cover!
Introduced in the hit Deadpool: Samurai manga and fresh off her recent appearance in Deadpool: Black, White, & Blood, Sakura-Spider strikes out on her own! Learn the origins of this breakout new hero in a story by her creators, Deadpool: Samurai creative team Sanshiro Kasama and Hikaru Uesugi!
Author Nikesh Shukla makes his Marvel Comics debut alongside a squad of the best artists in the business including Mark Bagley, Paco Medina, David Baldeón, Gerardo Sandoval, and Abhishek Malsuni with the return of fan-favorite hero Pavitr Prabhakar, AKA Spider-Man: India!
Check out all the covers for EDGE OF SPIDER-VERSE #3 plus a first look at interior artwork, and stay tuned in the weeks ahead for more news about what's to come in EDGE OF SPIDER-VERSE! For more information, visit Marvel.com.
We Want To Hear From You
Are you excited about the EDGE OF THE SPIDER-VERSE #3 from Marvel comics? Is this a must-have and read for your collection? Also, what are some other comic series that you are reading right now? That Hashtag Show wants to hear from you!
You can tell us your thoughts by leaving a comment below or hitting me up at starwarsnerd574. Or you can also join us on the Marvel Fanatics Facebook page and chat about all things Marvel. Also, make sure to stay up to date on all the Marvel and Collectibles news by following us at ThatHashtagShow.com.
Source: Marvel
SEE ALSO: