It looks like Suzume, the latest anime film masterpiece from Makoto Shinkai, really wants to hype up its impending release. Why else would they release a new trailer for it just now? Don't believe me? Then check it out below:
The Door Opens on Even More Questions
Toho and CoMix Wave Films are proud to reveal this latest trailer for Suzume on YouTube. This new trailer teases quite a bit about this latest masterpiece from Makoto Shinkai, but the central thing here seems to be the song the main character herself is singing, which was apparently composed specifically for this anime film. While the song itself sounds very nice (as is fitting for a Makoto Shinkai film), the lyrics are enigmatic to an insane degree. I can't even begin to guess what the lyrics mean in the context of this anime film. I suspect that this is going to be one of those cases where the song's lyrics make sense only after you've watch the film.
The visuals though are quite lovely. Makoto Shinkai is known for some jaw-droppingly pretty anime films, and it looks like Suzume is going to be no exception. For instance, the way the sunlight reflects off of everything (especially the water) is just gorgeous. You can just tell that Shinkai spared no expense for the animation budget. The strange things like the oddly cute animate chair and the cute yet slightly unsettling white cat only raise more questions though.
Note though that this trailer for Suzume mentions that it will debut on November 11, 2022. However, this is the Japanese release date. Crunchyroll revealed a while back that we here in the NA region won't get to see this anime film until sometime in early 2023. Oh, well. At least this latest trailer proves that this anime film is very likely worth the wait.
Suzume: Details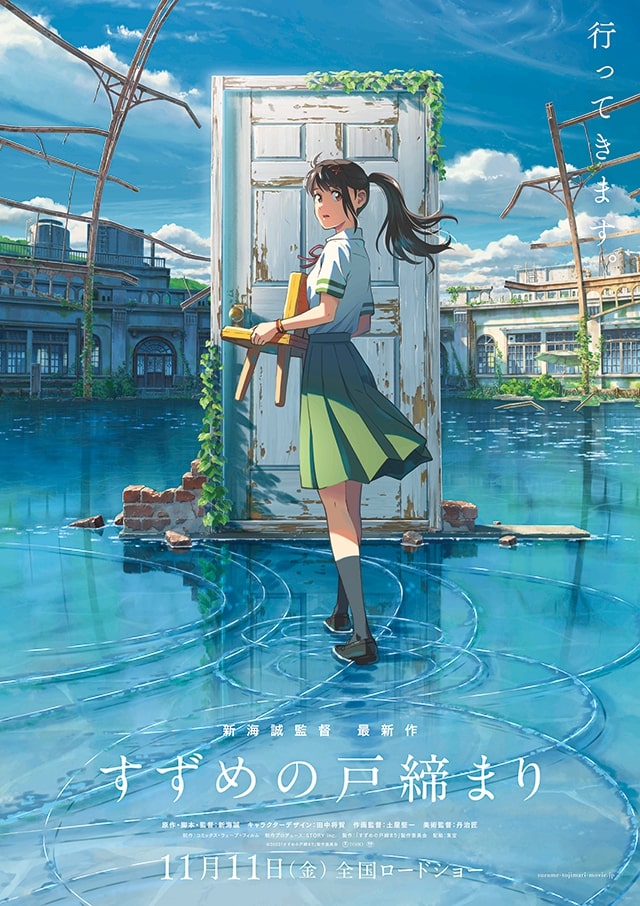 Suzume (Suzume no Tojimari in Japanese) is the latest anime film masterpiece from acclaimed director Makoto Shinkai (The Garden of Words, Your Name, Weathering with You), who also wrote for this anime film. CoMix Wave Films (The Garden of Words, Your Name, Weathering with You) is the animation studio behind this anime film. Voice actress Nanoka Hara stars in this anime film as the titular Suzume Iwato. Toho is distributing this anime film in Japan. Lastly, Crunchyroll, Sony Pictures, and Wild Bunch International are licensing this anime film for its future NA release.
As for what Suzume is about? Well, CoMix Wave Films has an official but mysterious synopsis for us. Check it out below:
"17-year-old Suzume's journey begins in a quiet town in Kyushu when she encounters a young man who tells her, "I'm looking for a door." What Suzume finds is a single weathered door standing upright in the midst of ruins as though it was shielded from whatever catastrophe struck. Seemingly drawn by its power, Suzume reaches for the knob…

Doors begin to open one after another all across Japan, unleashing destruction upon any who are near. Suzume must close these portals to prevent further disaster.

The stars
The sunset
The morning sky

Within that realm, it was as though all time had melted together in the sky—

Guided by these mysterious doors, Suzume's journey to close doors is about to begin."
Source: Toho Movie Channel YouTube