How do you know when you have a hardcore Spy x Family fan here? When they draw fanart of the Forger family and other characters into a poster for an in-universe Bondman film, of course.
Bondman: The Movie ~ Coming Soon?! (Not)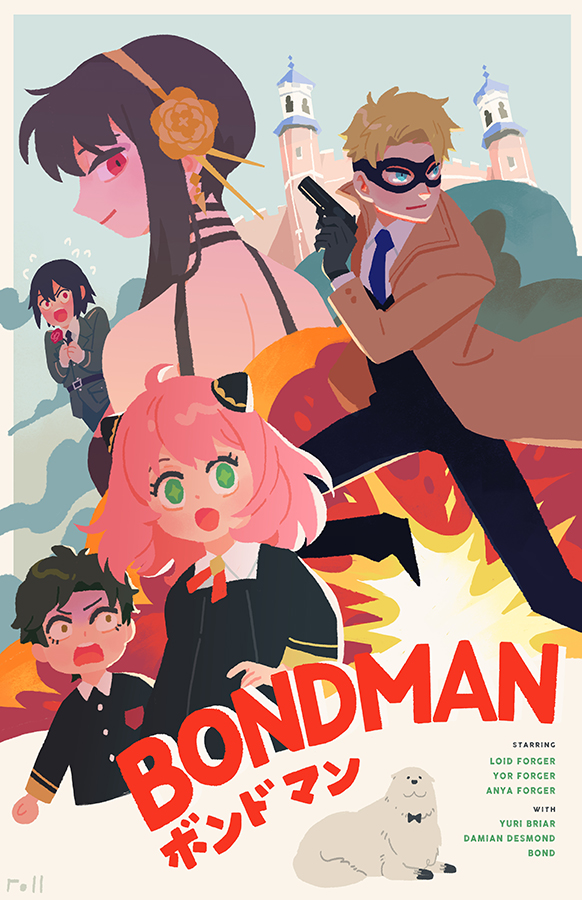 An artist who goes by the handle of roll AX G32 has taken to Twitter to post that rather lovely piece of Spy x Family fan art above. As you can see, the fan art depicts the Forger family (and their dog) plus Yuri Briar and Damian Desmond in a hypothetical Bondman film poster. To clarify: Bondman is an in-universe TV series in the manga, of which Anya is a huge fan of. Her actually getting to be in such a film would make her century.
Loid…probably not so much, given that he has to play the titular Bondman. One of the chapters of the Spy x Family manga reveals that Bondman is a bit of a jerk. The titular main character behaved almost exactly like his namesake: James Bond, and attempted to date numerous women at once without their apparent knowledge. Until they all confronted him about it all at once, which resulted in Bondman getting his so richly deserved beatdown from them. I have a feeling that Loid would be just a bit too honest to fully play Bondman. At the very least, he would make it clear that he wasn't interested in dating them beyond what the mission requires him to do.
Not sure how Yor would play into this Bondman film though. Or even Anya, Damian, or Bond the dog; really. Maybe if Wit Studio and CloverWorks see this, they might actually make an anime spinoff of Spy x Family based on this? Well, one can dream.
Spy x Family: Details
Spy x Family is the anime adaptation of the action spy comedy manga of the same name by Tatsuya Endo. Wit Studio (Attack on Titan, The Ancient Magus' Bride, Ranking of Kings) and CloverWorks (The Promised Neverland, Horimiya, Wonder Egg Priority) are the animation studios behind this anime. Kazuhiro Furuhashi directed and wrote for this anime. Makoto Miyazaki and Shūhei Mutsuki of [K]NoW_NAME are responsible for that jazzy spy music you hear in the same. Finally, Crunchyroll licensed this anime for its global release.
As for what Spy x Family is about? Well, Crunchyroll has an official synopsis for the anime. Check it out below:
"World peace is at stake and secret agent Twilight must undergo his most difficult mission yet—pretend to be a family man. Posing as a loving husband and father, he'll infiltrate an elite school to get close to a high-profile politician. He has the perfect cover, except his wife's a deadly assassin and neither knows each other's identity. But someone does, his adopted daughter who's a telepath!"
You can watch Spy x Family only on Crunchyroll.
Source: Twitter