Are you looking for new releases in Film or Television to watch this weekend of March 18th!? Well, THS has you covered in our weekly series! So, make sure to come back each week as we compile all of our recommendations for you to check out on your days off.
However, I wanted to break down this list and make it a little more personal. Kind of like when you walk into a book store and see the wall of employee recommendations. So, I'll be breaking down this list as to what we at THS are watching, not necessarily every single thing releasing. So, first up Sarah!
SARAH'S WATCHING
One of my favorite shows' final seasons is coming to Hulu. So, I'm definitely diving into Claws. Then, I'll be checking out Amy Schumer's new series, Life & Beth. I also think Minx on HBOMax is fantastic! If you haven't seen my review make sure to check it out. I'll definitely be doing a rewatch. If I make it to the movie theater, I definitely want to see Alice, The Outfit, and Umma!.
TRAVIS'S WATCHING
This weekend I'll be watching quite a bit of NCAA basketball as March Madness has kicked off. In between games, I'm spending some time on Disney+ and familiarizing myself with the animated series Star Wars: Rebels to prepare for Obi-Wan in May.
BRIAN'S WATCHING
I'm planning to rewatch Better Call Saul season 5 before season 6 debuts next month.
BENJY'S WATCHING
I'm still diving into The Owl House Season 2. Right now, I'm on Ep. 11. Then, it's back to binge-watching Gargoyles.
JESSICA'S WATCHING
I'm headed to the theater to be emotionally attacked by Umma. Oh, AND I'm planning a Murder, She Wrote streaming marathon with friends. (It's on Peacock and IMDb!) We have a very elaborate timed guess-the-killer competitive points setup going on. It's a whole thing.
KAT'S WATCHING
I'm continuing to watch Law And Order over on Peacock, and I'm probably going to try to rewatch Ladies Of London on the streaming service as well. I actually enjoy the show a lot, even though I don't watch a lot of reality television.
JJ'S WATCHING
Since all the MCU Netflix series are now on Disney+, you can see me restarting Daredevil this weekend!
HUNTER'S WATCHING
I'm on a Star Trek: The Next Generation binge marathon before it leaves Netflix
laura's watching
We're watching 90-day fiance… cause we are too invested to quit it lol. Also, The Office and all the Scream movies in order to finally watch Scream 5!
NEW RELEASES – WHAT ELSE YOU CAN WATCH THIS WEEKEND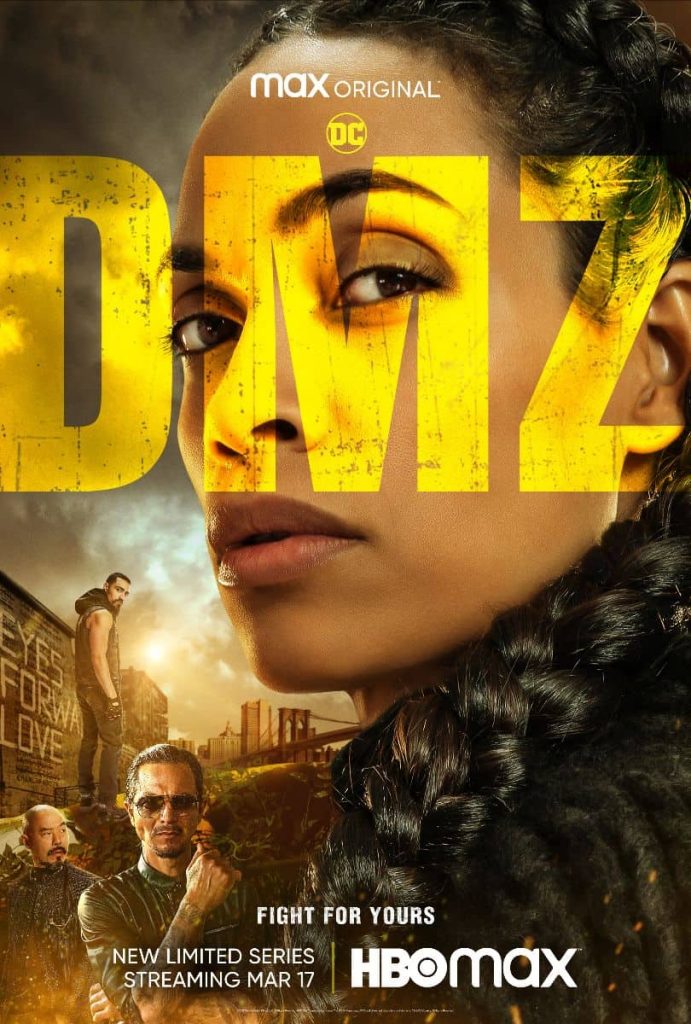 NEW IN THEATERS – MARCH 18TH!
Umma
Umma, which is the Korean word for "mother," follows Amanda (Oh) and her daughter living a quiet life on an American farm, but when the remains of her estranged mother arrive from Korea, Amanda becomes haunted by the fear of turning into her own mother.
The Outfit
From the Academy Award-winning writer of The Imitation Game (Graham Moore) comes The Outfit, a gripping and masterful thriller in which an expert tailor (Academy Award winner Mark Rylance) must outwit a dangerous group of mobsters in order to survive a fateful night.
X
In 1979, a group of young filmmakers set out to make an adult film in rural Texas, but when their reclusive, elderly hosts catch them in the act, the cast soon find themselves in a desperate fight for their lives.
Measure of Revenge
Broadway actress Lillian Cooper (Academy Award®-winner Melissa Leo) is making her final on-stage appearance when her famous son, Curtis (Jake Weary), is found dead. When his death is ruled as an accidental overdose, a suspicious Lillian decides to take matters into her own hands. On a quest for answers, she strikes up an unlikely alliance with her son's drug dealer, Taz (Bella Thorne), setting in motion a bloody warpath to uncover the truth and punish those who killed her son.
Alice
Alice, an enslaved person yearning for freedom on a Georgia plantation, escapes through the woods and stumbles through time into the year 1973. After she meets a disillusioned political activist, she confronts the lies that kept her enslaved.
NEW ON DISNEY+ – MARCH 18TH
All of the Netflix Original MCU series will now be streaming on Disney+. So, dive into the world of Jessica Jones, The Punisher, Luke Cage, Iron Fist, and The Defenders! As well as, Agents of S.H.I.E.L.D.
Cheaper By The Dozen
The Disney+ Original movie "Cheaper by the Dozen," is a fresh take on the 2003 hit family comedy starring Gabrielle Union and Zach Braff. This film is a funny and heartwarming story of the raucous exploits of a blended family of 12, the Bakers, as they navigate a hectic home life while simultaneously managing their family business.
More Than Robots
"More Than Robots" follows four teams of teenagers from around the world as they prepare for the 2020 FIRST® Robotics Competition. Get to know teams from Los Angeles, Mexico City and Chiba, Japan as they work towards the goal of taking their unique designs all the way to the highly competitive global championships. Although they are faced with overcoming challenges along the way, such as having limited resources within their community or putting everything on hold because of a world-wide pandemic, the kids persevere and learn that there is a lot more to the competition than just robots.
NEW ON HBOMAX – MARCH 18TH
Phoenix Rising Part 1 & 2
When the law's don't protect you, change them. This is Evan Rachel Wood's documentary about taking on Brian Warner aka Marylin Manson.
DMZ, Max Original Season 1 Premiere
DMZ leaps off the pages of the acclaimed DC graphic novel into the visual landscape of a dangerous and distorted Manhattan as one woman navigates a demilitarized zone in a harrowing quest to find her lost son.
Minx
In the 1970s, Joyce (Ophelia Lovibond) is a young feminist from Los Angeles who creates an unlikely bond with editor Doug (Jake Johnson) as they set out to create the first women's erotic magazine.
NEW ON NETFLIX – MARCH 18TH!
Catherine Cohen: The Twist…? She's Gorgeous
In this sparkling cocktail of standup and song, Catherine Cohen serenades about looking for love, the absurdity of marathons and burying someone alive.
Bad Vegan: Fame. Fraud. Fugitives
A scandalous four-part documentary series that uncovers how Sarma Melngailis, the celebrity restaurateur behind the New York hotspot Pure Food and Wine, went from being the queen of vegan cuisine to the tabloid-touted "Vegan Fugitive" when she falls for a man who promises to make her dreams come true. Millions of dollars, immortal dogs, meat suits, and secrets lead to a twisted tale of love turned criminal.
Rescued by Ruby
State trooper Dan (Grant Gustin) dreams of joining the K-9 Search & Rescue team, but no one will give him the chance. Shelter dog Ruby dreams of having a home, but is running out of hope. When fate brings Dan and Ruby together, it's their unshakable bond that helps them face their toughest challenge yet. Based on a true story.
Human Resources
Grown-Up Problems. Professional Creatures. From the creators of Big Mouth, Human Resources
Is It Cake?
Skilled cake artists create mouthwatering replicas of handbags, sewing machines and more in a mind-bending baking contest inspired by a popular meme and hosted by Mikey Day.
Windfall
A Hitchcockian thriller following a young couple (Lily Collins, Jesse Plemons) who arrive at their vacation home only to find it's being robbed.
NEW ON HULU – MARCH 18TH!
Claws: Season 4
The fourth and final season of Claws premieres December 26th on TNT. Claws is a midnight-dark, wickedly funny meditation on female badness set in a South Florida nail salon. It follows the rise of five diverse and treacherous manicurists working at the Nail Artisan of Manatee County salon, where there is a lot more going on than silk wraps and pedicures. Claws is about good women caught in bad places with worse men. It's the story of hardworking women trying to get by in this economy, set against the surreal, bright, gritty landscape of Florida and the luscious, absurd, extreme excesses of the crime world.
Life & Beth
A trip down memory lane is a strong source of trauma, comedy and moving forward. The Hulu Original Series, Life & Beth, starring Amy Schumer and Michael Cera premieres all episodes March 18.
Deep Water
Ben Affleck ("Gone Girl") and Ana de Armas ("Knives Out") star in the psychological thriller "Deep Water" from director Adrian Lyne ("Fatal Attraction," "Indecent Proposal"). Based on the celebrated novel by famed mystery writer Patricia Highsmith (The Talented Mr. Ripley), "Deep Water" takes us inside the marriage of picture-perfect Vic (Affleck) and Melinda (de Armas) Van Allen to discover the dangerous mind games they play and what happens to the people that get caught up in them.
So, what are YOU watching this weekend? Comment below and let us know. And stay tuned to THS for more weekly suggestions, news, reviews, and exclusives!
KEEP READING