If you are a LEGO fan then you probably know we have amazing sets heading our way. From Star Wars and Jurassic Park to Harry Potter and Horizon Forbidden West, there is a new set heading this way for just about LEGO builder. Here is a look at some of the new sets that are available now for pre-order or will be available during the next few months. Of course with over 70 sets heading our way, we won't be able to get them all in here so you can check out all the new LEGO magic at LEGO.com
Star Wars LEGO Sets
Boba Fett's Throne Room ($99.99)
Coming at you from the hit DIsney+ series The Book of Boba Fett is set #75326 Boba Fett's Throne room. This 732 piece LEGO set includes seven minifigures, Boba Fett, Fennec Shand, Bib Fortuna, Theelin Dancer, Weequay Guard, Gamorrean Guard, and Quarren. This set comes with a hidden compartment and a lot of accessories. Boba Fett's Throne Room is available now to pre-order and will ship in March. 
The Mandalorian's N-1 Starfighter ($59.99)
Also from The Book of Boba Fett comes The Mandalorian's new ride, the N-1 Starfighter. This 412 piece set comes with The Mandalorian, Grogu, Peli Motto (without Jawa date), and a BD Droid. Once built you will want to take this ship through Beggar's Canyon for a test flight. The Mandalorian's N-1 Starfighter #75325 will be available on June 1st, 2022.
Dark Trooper Attack ($29.99)
Get ready to relive one of the most memorable Star Wars moments ever. From The Mandalorian comes Dark Trooper Attack #75324. This 166 piece set comes with Luke Skywalker and three Dark Troopers. This set will be available on March 1st, 2022.
Jurassic Park
T. Rex Breakout ($99.99)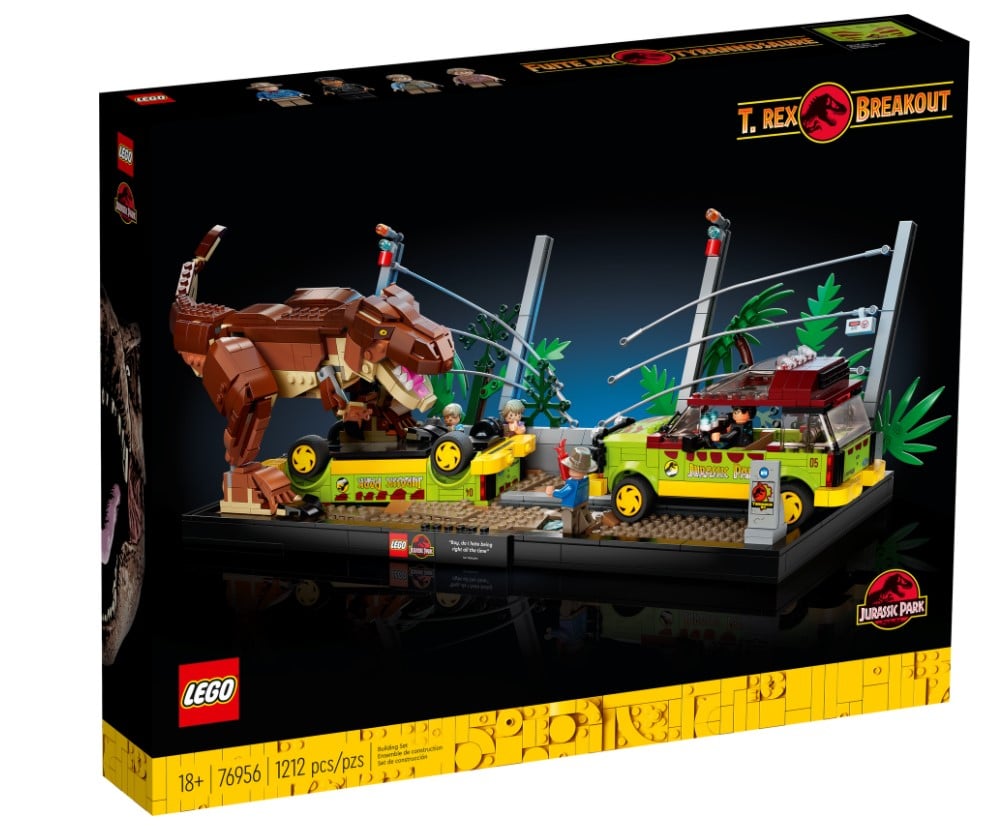 Whatever you do, don't move! Relive the epic scene we Alan Grant, Ian Malcolm, and the children run into the T. Rex for the first time. This 1212 piece set comes with one and a half Ford Explorers, the broken electric fence, and T. Rex. Also included are Alan Grant, Ian Malcolm, Tim Murphy, and Lex Murphy minifigures. So make sure to watch the glass of water and don't run, it won't do you any good. This Jurassic Park LEGO set will be available on April 17.
Harry Potter LEGO Sets
Hogwarts Magical Trunk ($59.99)
Get ready to make your own trunk of magic with the Hogwarts Magical Trunk LEGO set. This 603 piece set gives you three classic movie stories to play out, the Sorting Ceremony; a Great Hall feast; and the Common Room. This set lets you customize not only different movie scenes but you can make all new characters as well (up to 5). The Hogwarts Magical Trunk set #76399 will be available on March 1st.
Hogwarts Hospital Wing (49.99)
Get ready to use your magic to treat injuries and even time travel with the new Hogwarts Hospital Wing (#76398) LEGO set. This 510 piece set includes four minifigures, Harry Potter, Hermione Granger, Ron Weasley, and Madam Pomfrey. Also included with this set are many accessories to take your magic and healing skills to the next level. This set connects with others in the series to create an entire Hogwarts Castle. The Hogwarts Hospital wing will be available on March 1st.
LEGO Horizon Forbidden West
Horizon Forbidden West: Tallneck ($79.99)
If you are a hammer then this is the LEGO set for you. Get ready to build on of the most iconic machines from Horizon Forbidden West, the Tallneck. This 1222 piece set captures the authentic details of this Communications Class machine. The Tallneck is displayed on a stand along with a brick-built Horizon. Also included is a minifigure of Horizon character Aloy and a Watcher. This set will be available on May 1st.
We Want To Hear From You LEGO Fans
What are your thoughts on the new LEGO sets? Are these a must-have for your collection? Also, what sets would you like to see added to this year's lineup? That Hashtag Show wants to hear from you!
You can tell us your thoughts by leaving a comment below or hitting me up at starwarsnerd574. You can also join me on The Toy Fanatics Facebook page to see the latest toy news and reviews. Also, make sure to stay up to date on all the Pop Culture news by following us at ThatHashtagShow.com.
Source: LEGO.com
SEE ALSO: