Great news Supernatural fans! The prequel to the series, The Winchesters has landed a pilot order on The CW! Who's excited? I'm excited!
A SUPERNATURAL PREQUEL?!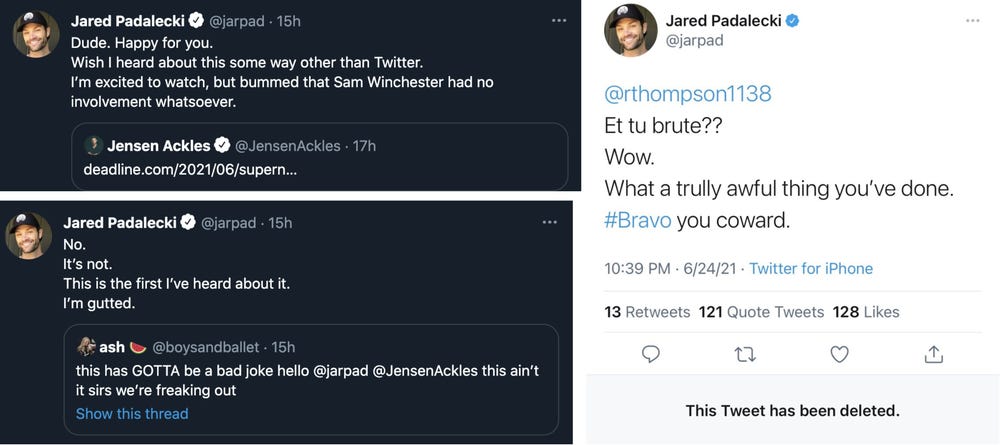 Yes, The Winchesters. The series that caused quite a stir on Twitter between Jensen Ackles and Jared Padelecki is actually happening. Well, possibly happening. It's just a pilot at this point. But, there was a point during the Twitter meltdown that fans thought this was a breaking point for the "brothers". But, as it would have it, it was all a misunderstanding.
Ackles speaks quite candidly about the entire ordeal on Michael Rosenbaum's (Smallville) podcast, Inside of You. Explaining exactly what happened, how it happened, and why it happened.
THE WINCHESTERS
The series was first reported to be in development back in June 2021 (Twitter drama). The story is going to be told from the perspective of Dean Winchester (Ackles) as narrator. The Winchesters tell the story of how John and Mary put everything on the line to not only save their love but the entire world!
Supernatural Co-Executive Producer, Robbie Thompson, will write and EP the pilot. Jensen and Daneel Ackles will also Executive Produce via Chaos Machine which has an overall deal with Warner Bros. Television. WBTV and CBS Studios will also co-produce.
What do you think? Should the story of the Winchester family have died with season 15's finale of Supernatural? Or are you excited for the prequel spinoff? Comment and let us know.
Stay tuned to THS for more news, reviews, and trailers!