Dragon Age fans: have you ever wanted your own lifelike, chibi-sized statuette of The Iron Bull? Well, Dark Horse Direct is here to help with that with an adorably-sized version of him for your tabletop.
A Chibi Qunari For Your Tabletop!
Dark Horse Direct is proud to announce this The Iron Bull statuette from Bigshot Toyworks. This chibi-sized version of our favorite commander of the Bull's Chargers can be yours for a mere…$159.99. Yeah, as it turns out, Qunari statuettes are expensive, especially this Qunari. Even worse is that you can only preorder him at this time. He won't arrive at your doorstep until around September to December 2022, and that's assuming that there aren't any delays due to port congestion. If you really want him for your tabletop though, I should point out that Bigshot Toyworks will only make 1000 pieces, so you might want to decide quickly.
The Iron Bull Statuette: Details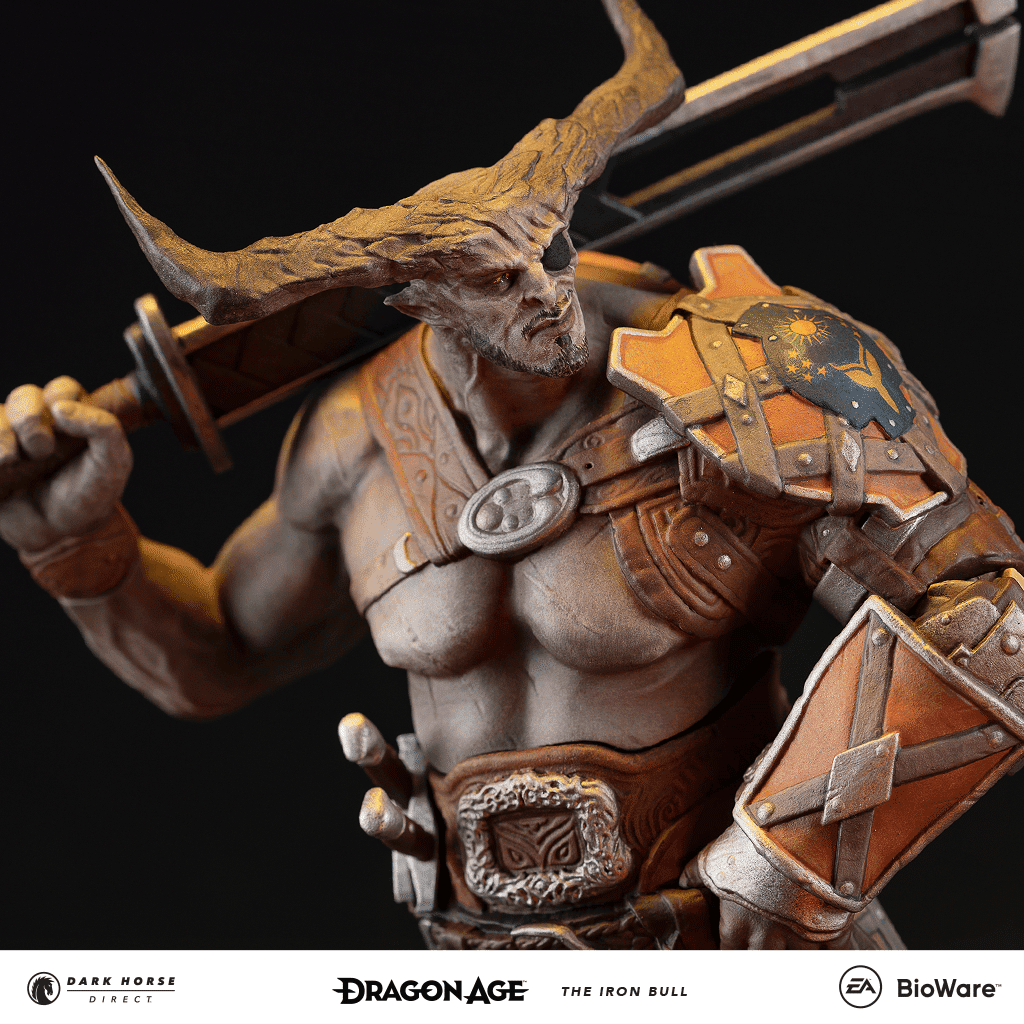 I say this The Iron Bull statuette is a chibi-sized version, but that's only in comparison to how he looks like in real life…the Dragon age game, I mean. This miniature Qunari still stands at a whopping 8 inches tall, with a base measuring 4 x 4.25 inches in diameter. Appropriately enough, he's much taller than he is wide, so you don't have to clear much space for him. The only thing you have to watch out for is his sword. That thing clearly juts out farther than the base to his left and right. You might want to watch out for any trees and tall miniature furniture when you're posing him.
Funnily enough, Dark Horse Direct even mentions that this particular The Iron Bull is scaled appropriately with their Varric statuette, also from Bigshot Toyworks. If you want him too, you can also preorder him from Dark Horse Direct. There's also apparently going to be a Morrigan statuette to go with these 2, but she doesn't even have a preorder page yet. That's something we're going to have to wait for later.
Source: Dark Horse Direct, Direct News, Dark Horse Direct