A Girl…
Some are born unto greatness—some have greatness thrust upon them—and some just get really into bows and arrows. While Katherine (Kate) Bishop has been carrying a quiver and slinging arrows since she was first introduced in the pages of Marvel Comics in 2005 thanks to writer Allan Heinberg and artist Jim Cheung. Fans of the MCU will finally get to meet this newest iteration of the sharpshooter named Hawkeye, soon. When the Disney+ series, Hawkeye hits the streaming service this fall on November 24th and then every Wednesday after that. We should all take some time to get to know the lady in purple with the bad guys in her crosshairs.
A Guy…
Clint Barton, the man, the myth, the very human member of the Earth's Mightiest. Introduced as a bit of a reluctant villain way back in 1964 in Tales of Suspense issue #57; the Stan Lee and Don Heck character eventually became a staple of the super-team known as The Avengers.
Hawkeye has no superpowers. Some might laugh at his shtick and consider him to be the Aquaman of the Marvel Universe, he can't compare. Besides, we all know that Sub-Mariner is the Aquaman of Marvel. Hawkeye is clearly the Green Arrow of Marvel minus arrows that have boxing gloves laced to the end of them.
The MCU Hawkeye
Hawkeye has been a solid member of the MCU for nearly 10 years now, first debuting in Thor (2011) then taking centerstage in The Avengers the very next year, actor Jeremy Renner took a rather silly character on paper and turned him into a true fan-favorite with his witty nature and a roll-with-the-punches attitude. Renner will be returning in November as Hawkeye, but the focus of this show will be the passing of the torch between his version of the character and the Kate Bishop version, played by Hailee Steinfeld of Bumblebee fame and who has already played an iconic Marvel character as the voice of Gwen Stacy (a.k.a. Spider-Gwen) in Spider-Man: Into the Spider-Verse.
It's also safe to assume that the stinger from the end of Black Widow will play a big part in the upcoming series as it now looks like Florence Pugh's Yelena Belova will be going after the titular character and he is going to need all the help he can possibly get.
A Dog Named Pizza!
Lucky is a very good boy and a very lucky dog. Wait, record scratch—who? Oh right, yeah so in the comics, a mobster had a dog that he mistreated, and Clint Barton's Hawkeye showed compassion to said mutt and as a result, the man of many arrows found himself with a K-9 companion named Arrow but quickly changed his name to Lucky. The name change came on the heels of Hawkeye's rescue of the pooch after being tossed into traffic by his former mobster owners and losing an eye.
After one point, after a kerfuffle over some pizza, Lucky and Mew, the pet kitty of Squirrel Girl's (Doreen Green) college roommate, teamed up to take on and take down Taskmaster. From that point on, Lucky became the good boy named Pizza Dog.
So why did I just waste words talking about this bowser, well, because Pizza Dog (or Pizza the Dog if you so please) is going to be a part of the new show on Disney+ and we can only hope that this furry companion to both Hawkeyes can play as pivotal and loyal a role as any good doggy can.
In the comics, Kate was rescued by the Avengers after being kidnapped and held for ransom by some goons hoping that her wealthy family might pay up for her release. During the rescue, she became enamored with Hawkeye as the only member of the team at the time who was kicking ass and taking names and all without any mystical or magical powers – he was just a dude with a bow and arrow and some really great eyesight.
Lady Hawk-eye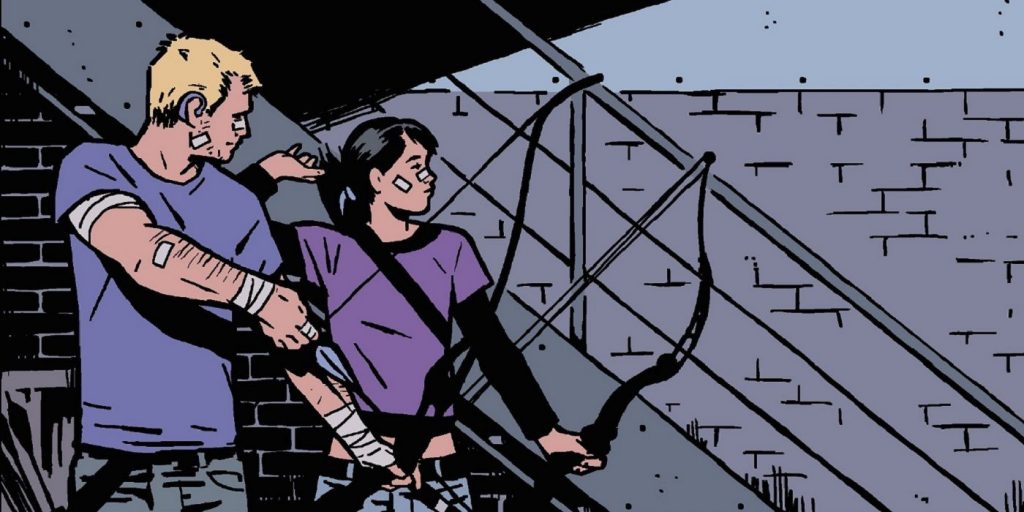 It is going to be pretty interesting to see if this kind of relationship forms in the show this November and how that relationship will be tested and strengthened by what is to come in the wake of Black Widow's death.
The MCU has also been doing a rather stellar job of introducing many young faces who in the comics, eventually form the Young Avengers and with Kate Bishop in the fold, we've just earned another mark on that scorecard. With America Chavez Ms. America) set to make her debut in the next Doctor Strange film and Kamala Khan showing up as Ms. Marvel both in her own Disney+ show and in the next Captain Marvel film, Kate will be in some great company along with Cassie Lang (Stature), Morgan Stark and Riri Williams and Harley Keener (Iron Man/Ironheart/Iron Lad), Miles Morales (Spider-Man), Thomas and William (Wiccan & Speed), and Kid Loki, things are about to get pretty interesting amongst all the multi-verse madness to come and what better way to help ground a group of young super heroes than to have someone like Kate Bishop to be the teams human Hawkeye.
Now, can someone please tell me when we will get my beloved Squirrel Girl on the screen? I need to see Doreen and Tippy Toe to go toe-to-toe with M.O.D.O.K. and I need to see this now!
For more on Marvel, make sure to check back to That Hashtag Show.