FOR THOSE OF YOU WHO HAVE NOT SEEN TURNER & HOOCH, THIS IS A NON-SPOILER REVIEW.
I'm going to start this review off by saying that I have never seen the original Tom Hanks film of the same name that Turner & Hooch is based off of. I also cannot help, but think that most people tuning in to this new Disney+ series will also have not seen it, as well. Though the original film was a moderate success at the box office in the late eighties, it was also nearly universally lambasted by critics. So, it makes me wonder who exactly was asking for this reboot/remake and who it's actually for. Despite these queries, I must admit that I had a decent time with Turner & Hooch and I think families will too.
WHAT IS THIS NEW SERIES ALL ABOUT?
The series follows Scott Turner (Josh Peck), a straight-laced detective in San Francisco who is trying to climb the ranks to become chief. His life is turned upside down, when his late father leaves him his massive and imposing monster of a dog, Hooch. Though Scott is unwilling to give this dog a chance at first, Hooch begins to help him solve cases and also shows him a thing or two about life, as well.
HOW IS JOSH PECK IN THE LEADING ROLE?
As a child of the nineties, though I didn't grow up with Turner & Hooch, I definitely grew up with the titular Nickelodeon series Drake & Josh. There is something so wonderful about seeing Josh Peck get a leading role again, even in something as slight as this show. Peck has such an endearing nature about him and is effortlessly charming. So, even though the writing in this new series might not be the most nuanced, Peck is able to elevate it in every scene that he is in. The rest of the cast is also game, especially Carra Patterson as his partner Jessica, who adds a sharp wit to the proceedings.
WHY DOES THE SHOW FEEL LOST?
Unfortunately, so far in the three episodes provided, Vanessa Lengies and Lindsy Fonseca, two actresses who have already shown their clout in this medium, have been given nearly nothing to do. And that leads me to one of my biggest qualms about Turner & Hooch… it feels a little lost. The showrunners don't seem to know what to do with a lot of their characters. They also seem to not know what direction to take the show in, either. Is this a hard-boiled police procedural that hangs on the bidding of its nostalgia? Is it a cheesy and silly family comedy in the same vein as Disney Channel Originals from their heyday? These are questions they have yet to figure them out themselves.
WILL TURNER & HOOCH BE WORTH YOUR TIME?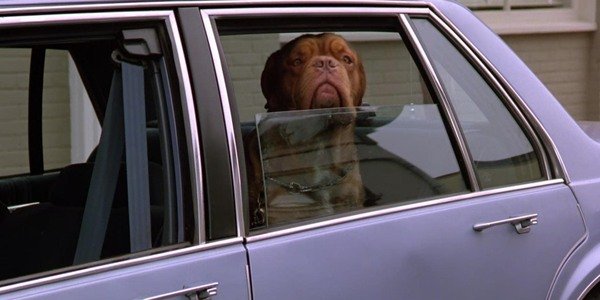 At this point in time, I'm not sure if Turner & Hooch has exactly validated its existence. But, with big-budget action provocateur McG (Charlie's Angels, Terminator: Salvation) taking the reins in helming the pilot… the series has at least shown that it is willing to go all in, on the scope and shenanigans. And while the showrunners figure out exactly what kind of television they are trying to make, they have a solid leading man and an adorable cantankerous dog paving the way for the show to improve. Plus, a little bit of much-needed heart. And at the end of the day, I think that will be enough for families to enjoy their time with this series.
Turner & Hooch Premieres on Disney+ Wednesday, July 21st. Tune in every week for a new episode.
For more Disney+ or Rants, Reviews & Ramblings tune in to That Hashtag Show!