Why does it look like Disney is eager to repeat what happened with the stir-fried noodles at 'Ohana, only with Trail's End? And with that finger-licking good fried chicken?
WDW News Today just announced yesterday on June 29, 2021 that Walt Disney World Resort will reopen their Trail's End Restaurant on July 17, 2021. This particular restaurant is located at the Campsites at Disney's Fort Wilderness Resort & Campground. The restaurant will now operate as Family-Style dining. The dinner menu will include "hushpuppies and skillet cornbread with a chopped garden salad for the table. The family-style Smokehouse Skillet comes with pecan-smoked brisket, rotisserie chicken, andouille sausage, fingerlings potatoes, green beans, and buttered corn on the cob. Pork spare ribs, peel n' eat shrimp, and cornbread-crusted salmon are available as tasty add-ons to your meal.".
Unfortunately, Trail's End seems to have left out one of their most popular dishes. It seems their fried chicken is absent. You know, the one the restaurant is best known for? Vanished off the face of the menu. Just like a certain stir-fried noodle dish was from 'Ohana.
Trail's End Fried Chicken: Day of the Noodle 2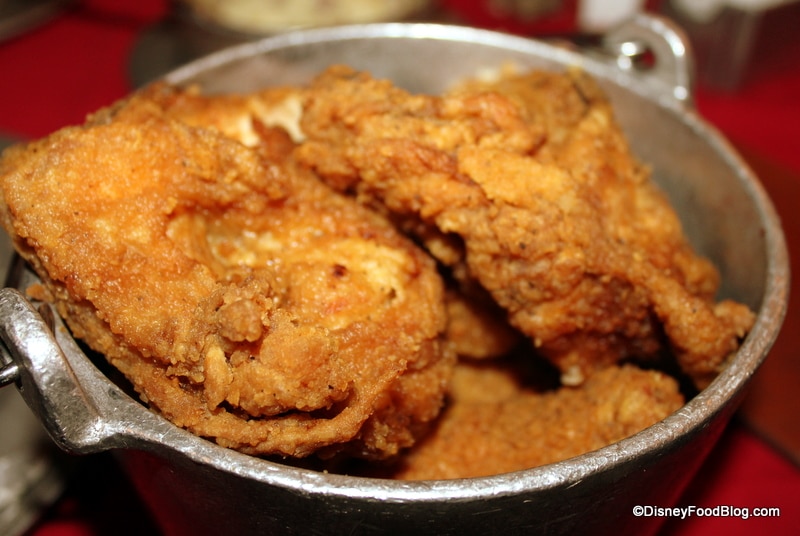 Already, the news of no fried chicken at Trail's End is blazing its way through Disney news sites like no tomorrow. Personally though, the timing of this seems suspicious. That previous debacle with the noodles at 'Ohana generated some negative publicity for Disney, but only briefly. Once Disney announced the return of the noodles, the negative publicity became positive quite quickly. Call me a cynic, but this thing with the fried chicken might be a similar stunt. After all, negative publicity is still publicity, and Disney might have found a way to build up hype for their various restaurants for free. This is all pure speculation from a cynical foodie though. You may take it with as many grains of salt as you like.
Conclusion
Disney appeared to have neglected to include the fried chicken in with Trail's End reopening on July 17, 2021 at Walt Disney World. However, this seems suspiciously similar to the Stir-Fried Noodles Incident at 'Ohana. It may just be a coincidence, but the timing does seem suspicious. We'll just have to see if Disney is truly removing the dish from their menu, or if they'll bring it back later as a publicity stunt.
Source: WDW News Today