In order to be next recruit at the Avengers Campus opening (up at Disney California Adventure on June 4th), you've got to look the part. You're in luck… Disney shared a bunch of new specialty and next level merchandise to channel your inner Marvel superhero. You've got to break out the wallet, though. Even at opening day attractions called "WEB Slingers: A Spider-Man Adventure," or if you want the full experience, you have to pay for it. (If you want or don't want to purchase the accessories, the choices is yours; it's totally optional).
Among the offers, Disney introduces WEB Tech accessories for the first time ever on a Disney Park attraction. Guests can customize their own experience on WEB Slingers and channel their own powers! Even better: it can be a different experience each time as well! ou'll don 3D glasses on a test-drive of the aspiring inventor's latest invention, the WEB Slinger vehicle. Want to discover your web-slinging super powers and prove your worth to the Avengers? you can do that too! Through specially designed, innovative technology that recognizes body movements and gestures, you'll reach out your hands and sling webs from your wrists, just like Spider-Man!
Select and choose from the Avengers and more!
First things first, you'll need a WEB Power Band. The base band features "attraction mode" that unlocks multi-fire webs to personalize the game for each experience on the attraction. Choose your favorite Marvel hero from Spider-Man, Ghost Spider, Iron Man and Rescue for your WEB Power Bands.
Retail for the base WEB Tech Power Band will cost $34.99 and add-ons will cost $29.99 each. Oh, and for those who were wondering what WEB stands for, it is the "Worldwide Engineering Brigade." That will be home to the Avengers Campus.
More Fun And Cool Stuff!
New and aspiring WEB recruits can even take home their fellow WEB Spider-Bot with a range of their Super Heroes! Every hero needs a fellow companion. The Avengers Campus will be selling Spider-Bots inspired by Iron Man, Black Widow, Black Panther and even Ant-Man and The Wasp. More are expect to come. Command your Spider-Bot and battle opponents, with programmed combat and defensive abilities.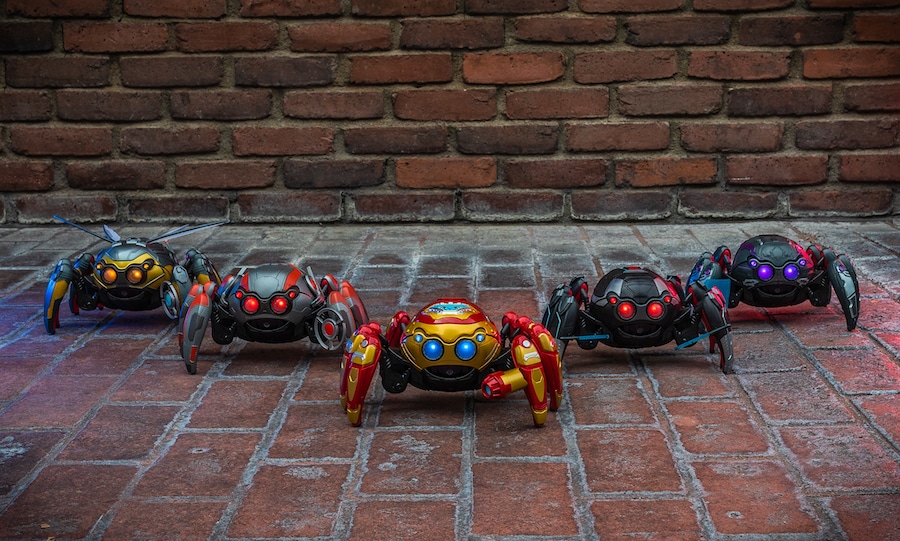 But wait that's not all! To step it up a notch and stand out from rest of your friends, as a mesh-backpack you can carry with and on-the-go to hold your own Spider-Bot.
Now to be fully like your friendly neighborhood web-slinger, don some cool looking goggles as the ultimate accessory for day or nighttime settings. Seventeen unique expressions come to life digitally and bring out your inner Peter Parker.
Suit Up With The Latest Apparel
Wide variety of apparel and home goods in featuring the WEB logo will be available to purchase. Assortment of products inspired by S.T.E.A.M. as recruits allow you to create their own webs at-home kits. Campus Supply Pod carries an assortment of attire featuring the Avengers Campus logo and other gear including Avengers Campus T-shirts, a fleece hoodie and even a deluxe figurine set featuring some favorite Avengers.
All of these items will be ready on June 4th at Disney California Adventure. However, some items will be rolling out even sooner. They'll be available May 29th at the Disneyland Resort Backlot Premiere Shop featuring Avengers Campus, Disney+ and Super Hero products.
Will you guys purchasing one of the bands, Spider-Bots or new merchandise from the Avengers Campus? Tell us and leave it down in the comments section below! For more on Disney, and all other theme park news make sure to check back to That Hashtag Show.
Source: Disney