*WARNING* THIS REVIEW CONTAINS SPOILERS FOR STAR WARS: THE BAD BATCH EPISODE THREE "REPLACEMENTS"
This week gave us the third episode of Star Wars: The Bad Batch, entitled "Replacements". While we were not spoiled with two episodes this week, "Replacements" made up for that by not only giving us more insight on the early building stages of the new Empire, It also took some notes from some of the old The Clone Wars episodes and gave us a very dark look on things to come.
Star Wars: The Bad Batch "Replacements"
Problems Again For Clone Force 99
Now we already know nothing is going to come easy for Clone Force 99 (The Bad Batch). They are still on the run, but to make matters worse, they have some issues with their ship and are forced to crash land on an unnamed moon. During this landing, we notice that Wrecker hits his head and was having a few issues after the crash (we may want to keep an eye on this). We quickly learn not only are they having ship issues, but they are also very low on rations.
In order to fix the ship, they have to replace a capacitor that went bad. luckily for them, they had one left to replace it. While looking for it Omega found a box belonging to Crosshair. That's when we see the crew is still hurting from the loss of Crosshair to the Empire. Well, the repairs to the ship didn't go as planned (of course) and Hunter and Omega went out together to fix the problem.
The Building Of A New Empire
This is where the episode started to turn dark. The Empire looking to move away from the use of Clone Troopers is starting to look at programs to do so. While Crosshair is undergoing another procedure to strengthen his inhibitor chip, we see Vice Admiral Rampart, who came to meet with Admiral Tarkin and Nala Se about a new program to replace clones with more loyal troops, an "Elite Squad". Rampart then introduces this Elite Squad to Tarkin, Crosshair, and Nala Se. "Imagine more squads like this being trained by skilled clones.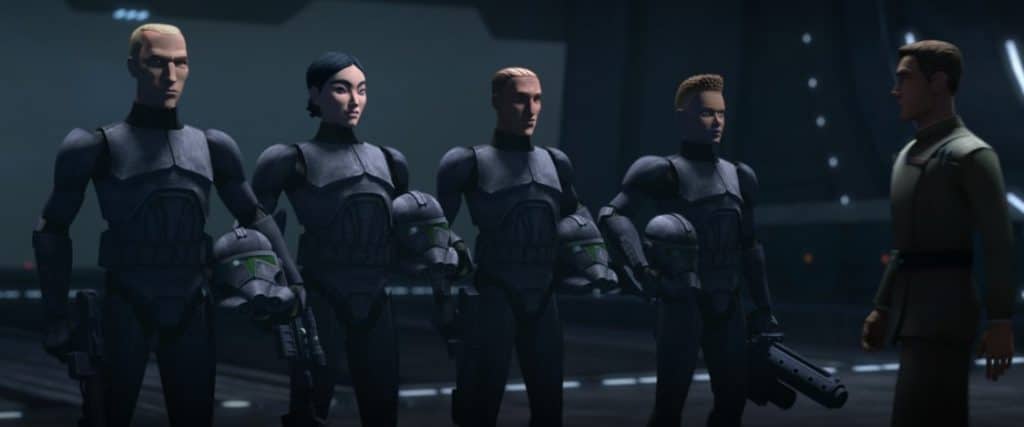 Together they would make a formidable army," said Rampart. Tarkin who wants to see them in action makes Crosshair their commander and sends them on a mission the Crosshair is very familiar with… go wipe out Saw Gerrera's rebel camp. "Let's see if they can succeed where Clone Force 99 failed," add Tarkin. This mission may have lead to one of not only the darkest scenes so far in The Bad Batch but possibly one of the darkest in all of Star Wars as well! I won't go into too much more but just remember "GOOD SOLDIERS FOLLOW ORDERS"!
My Final Thoughts On The Bad Batch "Replacements"
Wow, what an episode, while we all already knew were going to see more from the side of the Empire, I never thought this episode would of went this dark so soon in the series. While this episode was split up pretty well between The Bad Batch and The Empire it seemed to have two things stick out. Family and loyalty! While there are some spoilers in this review I don't want to go into too much to ruin some of it for you. This episode also pulled away from the kid-friendly side of things. While some of the bright spots were again focused on Omega and Hunter, Crosshair and his Elite Squad stole the show, and when you watch it you will understand where I got family and loyalty from!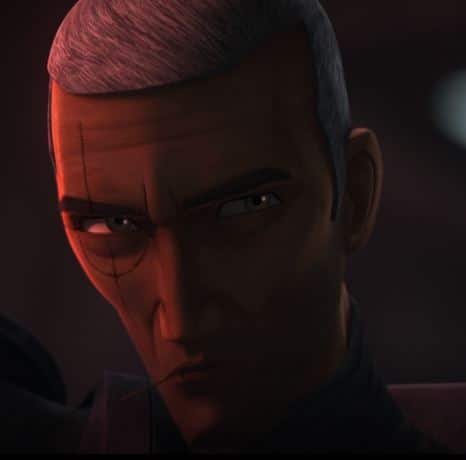 We Want To Hear From You
What were your thoughts on Star Wars: The Bad Batch "Replacements?" Do you like the approach that the series is taking? Also, what did you think of the scenes with Crosshair? That Hashtag Show wants to hear from you!
You can tell us your thoughts by leaving a comment below or hitting me up at starwarsnerd574. You can also join me at the Midwest Star Wars Fanatics fan page to chat all things Star Wars. Also, make sure to stay up to date on all the Star Wars news by following us at ThatHashtagShow.com. More importantly, be safe, I can't wait to see you all at Celebration 2022.
Also you can check out my other The Bad Batch Reviews from the links below.
STAR WARS: THE BAD BATCH EPISODE 1 "AFTERMATH" [REVIEW].
STAR WARS: THE BAD BATCH EPISODE 2 "CUT AND RUN" [REVIEW].