Have you ever taken a look at Star Wars' wildlife, and thought: "Man, one of those would be a great hunting trophy"? Well, now you can get the next best thing to that with this Wampa Rug from Fun.com.
Note: I received this Wampa rug for free from Fun.com.
Packaging
The Wampa rug came in a standard cardboard box with Fun.com's logo labelled on it. Inside, the rug had an additional layer of packaging in the form of this clear plastic bag. The bag was open, but the rug was well rolled up in it.
Description
According to Fun.com's website, this Wampa rug measures 54″ (137 cm) long, and 26″ (66 cm) wide. Using a ruler, I measured mine's to be roughly 4′ 5″ (53″) long and 2′ 1″ (25″) wide. All in all, the measurements seem to more or less conform to what the official website says it is. Measurements aside though, this is not only a very flat Wampa, but a very small one as well.
According to Wookiepedia, adult Wampas stand at a height of 2.5 to 3 meters. This means that if you were to make a rug out of a Wampa skin, it should result in a rug measuring 98′ to 118′ long. Or to put it more simply, about twice the length of this Wampa rug. To be fair, such a rug would have difficulty fitting into the average room. Nonetheless, if you're the type to complain about the rug's lack of size, just pretend that it's the skin of a baby Wampa.
As expected of such a rug, it's very fluffy. The Wampa rug's faux fur covering is soft to the touch, and is very comfortable to stroke. The head actually bulges out from the body, and is practically a plush toy in of itself. Petting and squeezing it reveals a pillow-like feel. I wouldn't mind if Fun.com ever takes just the head of this rug, and turn it into a pillow or plushie.
The bottom of the Wampa rug is covered in an anti-skid material. The surface feels bumpy and rubbery to the touch. Almost like touching a tire, really. It seems perfectly suitable for gripping the average linoleum floor.
Handling and Care
According to the very handy care instructions tag attached to the Wampa rug, you should spot clean it only. That means that you should only clean off the spot or stain by hand. Do not put this thing in a washing machine. Don't even submerge it in water. Definitely do not use bleach. Otherwise, you'll likely ruin it. At the very least, your rug won't be fluffy anymore.
Price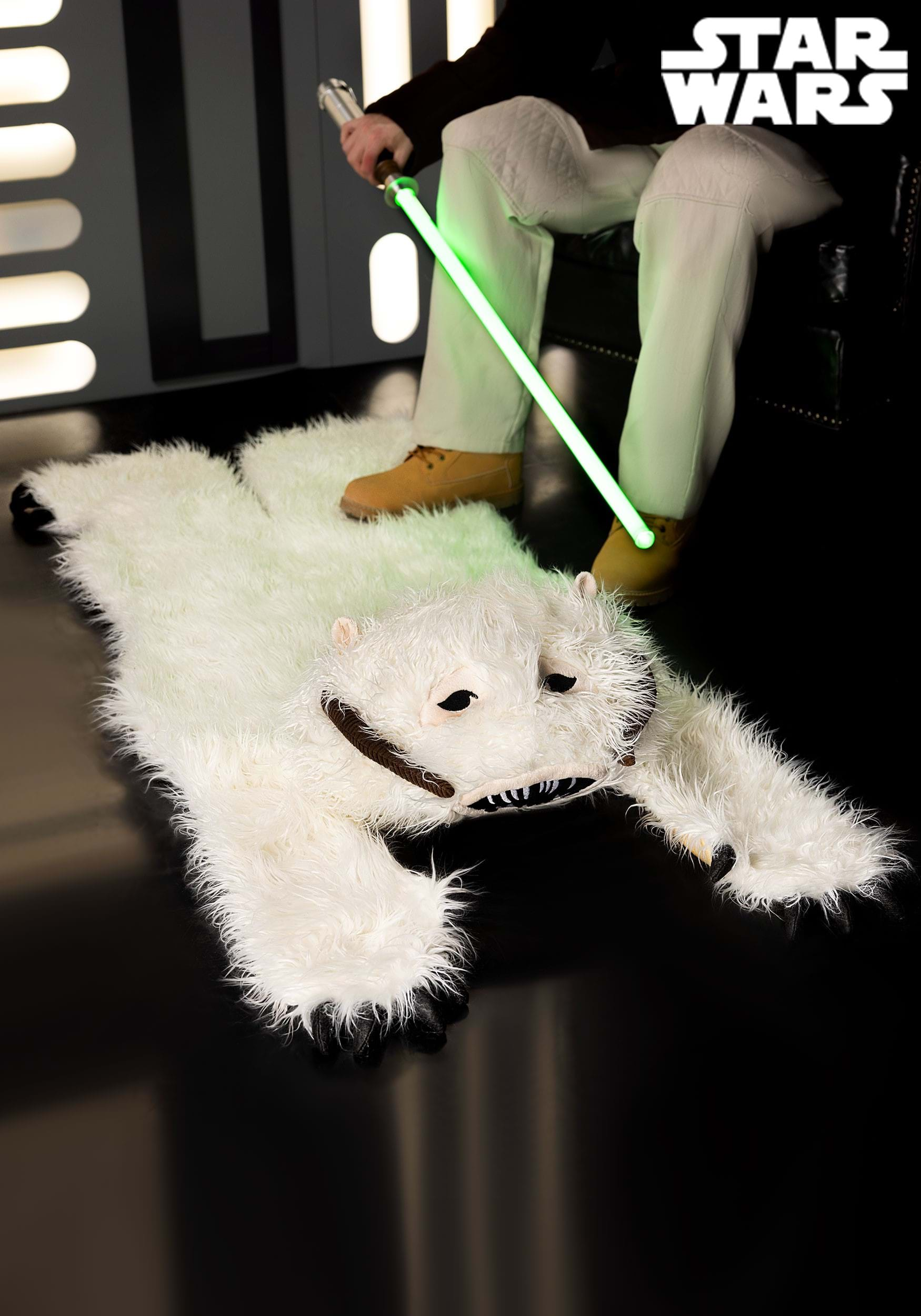 You can purchase this Wampa rug from Fun.com for a grand total of $59.99. If you use Sezzle, you can pay in four $15.00 interest-free payments. All in all, it does seem a bit pricey for such a small rug. However, considering how fluffy it is, it's not actually all that bad. I mean, you're practically paying for a four-and-a-half foot long Wampa plushie for your floor.
This rug is basically a flat, small, and extremely fluffy Wampa for your floor. If you've ever had a desire to head on over to Hoth and hunt a baby Wampa and turn it into a rug, here's the next best thing to it from Fun.com. And all without ever needing to hop on a Star Wars starship or kill an actual baby Wampa to get it.