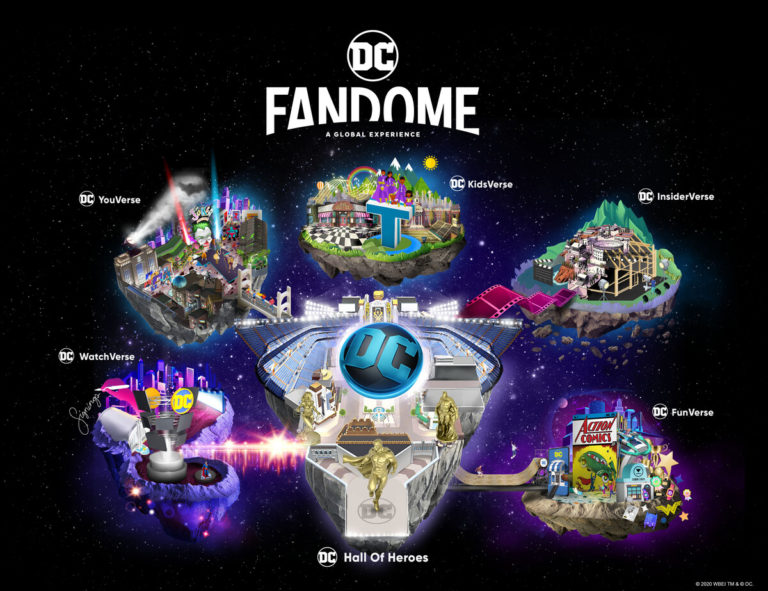 A few months ago I wrote an article and hypothesized the ability for in-person conventions to remain active in a post COVID world. In that article, I proposed that the most likely step forward was that all big publishers would pull out of conventions.
DC has now taken the first step toward that reality. DC has revealed that due to the shutting down of San Diego Comic-Con they will be hosting a Virtual "DC FanDome" Convention.
The online convention will be held on DCFandom.com. It will go live on Saturday, August 22, at 10 AM and be accessible for 24 hours.
What DC Fandome Will Intel
According to the announcement, DC will reveal announcements for its games, films, and comics. As well as announcing casting and creators for their TV series. As well as exclusive and never before seen footage.
The official list includes possible announcements for Aquaman, The Batman, Batwoman, Black Adam, Black Lightning, DC Super Hero Girls, DC's Legends of Tomorrow, DC's Stargirl, Doom Patrol, The Flash, Harley Quinn, the Snyder cut of Justice Leauge, Lucifer, Pennyworth, Shazam!, The Suicide Squad, Supergirl, Superman and Lois, Teen Titans GO!, Titans, Watchaman, Young Justice: Outsiders, and Wonder Woman: 1984.
DC will also be hosting some areas of the convention at different sister websites. They will also be hosting DCKidsFanDome.com. THat'll be the place for kids content and family friendly activities. DCYouVerse will be an area featuring user-generated content, cosplay, and fan art. Those wishing to participate can head over to create.DCFanDome.com. There will also be DIY WW84 Golden Armor and Batmobile kits, shareable content, exclusive merchandise for sale, and more.
Future of Conventions?
This is a bold move for DC and a huge shift in terms of the norm of conventions. Conventions serve as a central hub that draws in millions of participants and outside viewers. Entertainment companies use this to ensure maximum audience size when making big announcements about their products going forward.
The decision to make online conventions the new norm will depend heavily on the buzz and interaction they are able to generate. So far DC is the only big-name entertainment publisher to announce an alternative to canceled big name conventions. Marvel and other companies have yet to announce any sort of online alternative.