The box office naturally took a hit as folks get ready to head back to school, jobs and normal, post holiday life, but the ranks stayed fairly consistent. Despite whatever reviews are out there, there can be no denying the power of the trident as Aquaman continues to dominate.
Reigning supreme for its third straight weekend is Aquaman. The king of the seas captured another $30.7 million. Add that to the $681 million from overseas and this film will be crossing the Billion Dollar club very soon. If it can hold onto #1 for one more week, it will be the first DC property to have held #1 for four weekends.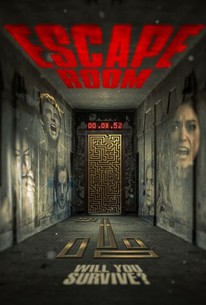 Coming in a distant second to the Atlanteans, is the lone new film of the week, Escape Room. The rookie film managed $18 million in its opening weekend. With a reported budget of $9 million, that's not a shabby turn around.
Forming a tight three way race with the other holiday major titles, Marry Poppins Returns held out for a narrow third place with $15.7 million in its third week. Poppins has made almost $140 million domestically so far.
In a close fourth was the much hyped and now Golden Globe winner for best animated film, Spiderman: Into the Spiderverse. Spidey only dropped 30% for a box office of $13 million. It has managed to be right there in the top five for the past four weeks now.
Finally in the five hole is Bumblebee. Bee managed another $12.8 million, also in its third week. The little yellow bug has brought in $98 million domestically and $192 million in the foreign box offices for a worldwide total of $289 million world wide. Given a better release weekend with less major competition and this movie could have done so much better. Hopefully execs see this.
NEXT WEEKEND
Even though we now enter the doldrums of the movie year, there are some good movies hidden in this time frame, and this next weekend's new releases could be amongst those. The three new releases may also finally shake up the top five foAr the first time in awhile.
A Dog's Way Home is nothing new. It is another version of Incredible Journey or one of the many tales of lost dogs/cats tales. This never matters with these types of movies. Give the audience adorable animals and a heart wrenching, feel good story and they will gobble it up.
Replicas is Keanu Reeves latest movie adventure. A scientist's family is killed in a car crash, and Keanu struggles to recreate their lives using his computer technology.
Finally we have a comedy that looks promising from his cast alone. Kevin Hart, Bryan Cranston and Nicole Kidman star in The Upside. In this comedy Cranston, a quadriplegic, hires Hart as a caretaker. Watching their personalities clash should be a lot of fun.